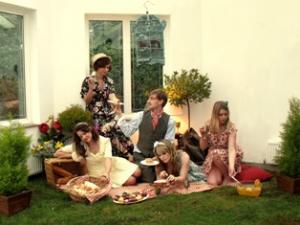 Courvoisier's Café du Pique-Nique Is launched and runs from the 13th to 20th March at The Future Gallery. This novel affair allows visitors to rebel against the British climate and enjoy an indoor summer picnic, complete with grass, trees, sunshine, strawberries, cakes and Courvoisier punch! It is the first of an innovative series of events, Courvoisier's Revolutionary Spirit 2010, set to take place in London in July.
This event will see The Future Gallery transformed into a vast indoor picnic area. While dismal London weather prevails outside, visitors can kick back, remove their shoes and enjoy their own summery picnic. The 1,000 square foot gallery will be an oasis of summer in these cold march days, imitating the best bits of the outdoors, without the usual pollen and wasp nuisances. This alfresco environment is completed by bright light boxes to help recreate the experience of a bright summer's day.
Everything you might want inside your dream hamper will be on offer at the Café, from Courvoisier summer punches, smoked salmon sandwiches and strawberries, to award winning cider, pork pies and a selection of homemade cakes. The café will be open from midday to midnight, so whether you are dropping in for your lunch-break, staying all afternoon to soak up as much of the summer atmosphere as possible, or going along in the evening for drinks with friends, Café du Pique-Nique promises to be a fun thing to do.
Throughout the week, pique-nique-ers will be entertained by a variety of different attractions including: The Courvoisier punch and folk music festival, the UK film premiere of Werner Herzog's Incident at Loch Ness, a cartwheel master-class, two-hour holidays and wasp piñatas all accompanied by a glass of Courvoisier punch.
For more information and individual event times please go to www.cafedupiquenique.co.uk.
The Future Gallery, 5 Great Newport Street.