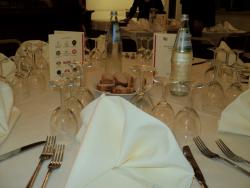 'Aperitifs as 7.00pm – Dinner at 7.30pm', the invitation from the Consorzio Piacenza Alimenttare and Confindustria Piacenza said. So not wishing to be a rude guest, and being quite ready for an aperitif we arrived at the Italian Cultural Institute in Belgrave Square soon after 7.00pm. As we approached the institute my mind drifted back to the previous occasion I had been invited to an event there, in February last year on the European day of Mozzarella di Bufala Campana PDO and the amusing confusion that ensued. Surely this couldn't happen again I thought, and to a large extent I was right, but echoes from the past did resonate.
Ushered into a large reception room, where suppliers from Piacenza and invited guests were stood or sat chatting, but wait, something was missing! What could it be? Oh yes, the aperitifs. We sat and chatted and chatted and chatted some more, occasionally glancing toward a table stacked with Champagne glasses, but no wine. As the time ticked by and my thirst grew stronger there were still no drinks, so I went to ask what was happening, 'Oh, there's a delay, we'll be having drinks at 7.30 and dinner at 8.00' I was told. Eventually activity started, 'canapes' were brought out to populate two tables, slivers of Gran Padano cheese, croutons with lard (not as dreadful as it sounds) hunks of pizza and focaccia bread, and at last some 30 minutes after our arrival, the fizzypop arrived – Colli Piacentini CDO Sparkling Ortrugo Il Paggiarello which was quite pleasant and easy drinking, if a little on the sweet side. We nibbled a little and drank as we waited for time to dine. But first, we were 'treated' to some music by Piacenza musicians. I have to say that even though I was the other end of the long reception room we were in, the trumpet player on several occasions came close to piercing my eardrums with what seemed to me to be some discordant high pitched notes, not my thing at all.
So 8.00pm finally came and the musicians, mercifully, stopped and off we went upstairs to dinner. The menu made up entirely of foods from Piacenza, the northernmost province of Emilia-Romagna in Italy. Starter plates of salumi; salami, pancetta and coppa arrived, all good flavoured cured meats, these washed down with Colli Piacentini CDO Sparkling Pinot Grigio 'Fiocco di Roas' Lusenti, which was quite dry, and very nice. We moved on to tortelli pasta stuffed with ricotta cheese and spinach in a butter and sage sauce, immediately followed by risotto with asparagus and pancetta, in which the rice was a little chalky for my liking, but the flavours were good. With these dishes we had Emilia IGT 'Prato Blanco' Torre Fornello, a fragrant white which had a big elderflower taste on the palate and a light acidity to it. Finally came dessert, sbriciolina, a Piacenza almond cake, pretty much like a round biscotti, or cantuccini, both in its texture and taste. With the sbriciolina we had a glass of Colli Piacentini CDO Sweet Malvasia 'Il Nanin d'oro' Villa Tavernago, which again was very nice but was rather sweet for me, I drank it anyway, it's only right to be polite. Of course, the sweetness of the biscuit lessened the sweetness of the wine, which is the intention when pairing dessert wines.
So having troughed through this array of Piacenzan produced it was getting rather late, we therefore decided that making our way home was rather more important than having coffee. So off we went into the night reflecting on an evening in which organisation wasn't paramount, but we got to taste some interesting produce from this small province in the North of Italy. There are certainly some interesting foods and wines coming out of Piacenza, the salumi was particularly good, the tortelli also, although I'd have preferred a less fatty sauce with it. The Prato Bianco was particularly memorable among the wines, one that you'd be happy to quaff on a hot summer's day.
Many of the producers are looking for importers to bring their foods into this country, so if you are interested in finding out more about any of the produce from Piacenza, click on one of the links below, but be aware they are largely in Italian.
www.consorziopiacenzalimentare.it