Chez Gerard, Tower of London, 14 Trinity Square, London EC3N 4AA www.chezgerard.co.uk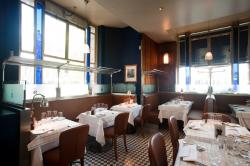 Part of a chain of ten restaurants across London, Chez Gerard, Tower of London is, as you might imagine, just a short distance from that famous London landmark and but a few minutes' walk from Tower Hill Station. The restaurant has an authentic French feel about it reminding me, in its style, of several I have visited in Paris over the years. To the right as you enter the restaurant there is train carriage style booth seating with luggage racks and opaque glass which give a feeling of privacy, but sadly obscure what would otherwise be great views of the Tower.
As we sat in our booth each sipping on a rather good Hendricks and tonic and nibbling on little dishes of olives and nuts, we chose our meal. For starters we went for the plateau de charcuterie from the menu and the starter special, a tower of prawn mousse and crab. We set about the tower first, the two principal elements of the dish were separated by a slice of tomato, which I thought was perhaps superfluous, but the mousse had a good flavour and was firm, it combined well with the excellent crab meat beneath, not exactly the ideal dish to share but we managed and it was very good. The charcuterie was also very good, made up of some great coarse pork terrine, full flavoured Bayonne ham, some very nice pork and duck rillettes and saucisson sec de Bourgogne, all this served on a wooden board with some sweet onion relish, a fig purée and some tiny and tangy pickled gherkins, this, in contrast to the tower, was ideal for sharing and we enjoyed all the different elements very much.
The Carré d'agneau for mains was a good piece of English Cotswold free-range rack of lamb, served nicely pink, the four rib rack was both tender and tasty. It came with a potato rosti that had been flavoured with rosemary, as well as some lovely honey confit shallots. The 8oz filet steak was served perfectly medium rare, this too was very tender and had great flavour, it came with a choice of sauces; green peppercorn in this case and that added a good bit of tangy bite to the steak, some good crisp chips completed the dish. We also chose a side of French beans which were nicely al dente, these were two good plates of food.
Having checked the dessert menu, after a suitable pause, we decided on the tarte au citron and the pain perdu, two great choices. The tarte had a gloriously sharp zingy filling that enlivened the palate and was accompanied well by some edgy crème fraîche and a nice blackcurrant coulis. The pain perdu was a lovely French bread and butter pudding that had just the right moist texture and was supported well by a lovely warm Valhrona chocolate sauce and some good vanilla ice cream. Each was an excellent way to finish off the meal.
We chose the house red, a Grenache-Merlot, which was medium bodied, soft and nicely fruity, well priced we thought at £18 and it went with the food very well. Service at the restaurant was attentive; the staff there are very helpful and friendly.
We understand that although Chez Gerard restaurants have the same basic menu, all dishes are fully prepared on the site and there are daily specials at the discretion of the individual kitchen. Chez Gerard, Tower of London, certainly didn't feel like part of a chain, the food was very good indeed, this going hand in glove with the restaurant's authentic French style. We certainly enjoyed our meal there.