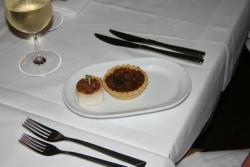 Last night Cyrus Todiwala hosted a an evening of 'British Twist' food in association with Slow Food. There were five small courses as part of a tantalisingly impressive sounding tasting menu, all created around the ethos of Slow Food.
If I could have a tasting menu every time I went to a restaurant I'd be one happy girl. The anticipation involved in waiting for sumptuous morsels to be laid down in front of me reminds me of the excitement of opening present after present when I was small, when Birthdays actually meant something.
In case you're not down with the current Slow Food Movement, here's a brief explanation; local food, sustainability, fair trade, seasonality of ingredients and preserving threatened foods are all the name of the game.
The food on offer was certainly local to Cafe Spice, we ate Cardoon (apparently it's from part of the Artichoke family) which had been grown just down the road in the Tower Hamlets.
From slightly, but not much, further away from London was an unusual Cornish charcuterie blended with mayonnaise, garlic and chilli served with diced venison slow cooked with strained yogurt and caramelised onions. It was some of the best venison I've ever eaten.
Venison is by no means my favourite meat and I reckon a lot of people tend to lose all grasp of portion control when they serve it. Personally I don't much like the idea of eating a quarter of a deer in one sitting, but maybe some people do.
Cyrus Todiwala's way with venison was different though; a small portion of the delicately spiced meat in a rich, dark sauce served in a crumbly mini pastry case.
As soon as I'd seen the menu on the table and run my eye over it I was eagerly awaiting the arrival of the dessert course which consisted of four separate sweet treats; saffron creme brulee, creme caramel parsee style, bebinca and rose petal and cardamom ice cream. When it arrived I felt pleased I had backed the right horse, it was all I had hoped for.
The rose petal ice cream was so good that words would just patronise it. I heard that it's available from the People's Supermarket near Russell Square so a trip on the tube with a cool box full of ice has been added to my diary as a priority for next week!
If you get the chance to attend one of these Slow Food events I would strongly recommend it. Hearing all about where the food is from, how it was reared and grown and getting an insight into the way a chef like Cyrus Todiwala's mind works makes for a great night out.