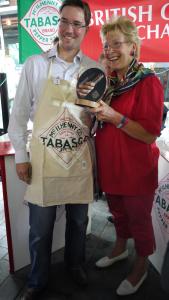 Beating 11 others, Fredrik Lindfors recently knifed his way to victory for the third time in five years.
Representing Kensington Church Street's 'Fish Shop', the deft shucker took just three minutes and 18 seconds to cleanly open a platter of 30 Loch Ryan native oysters (equating to one per 6.6 seconds). His prize for prising: a glinting trophy from sponsors Tabasco presented with an embrace by Celebrity Masterchef finalist, Christine Hamilton.
Compered with headmaster like resolve by chef, Brian Turner, the championship, which is now in its 18th year, marked the first day of the native oyster season (1st September). Taking five years to mature, this rare, flat bivalve is technically property of the crown and an act of parliament governs its spawning season, May-August.
Coming a close second was Sam Tamsanguan of Wilton's restaurant (3:23), with Corrigan's Cristian Macovei finishing third (4:45).
Assessing the quality of participants efforts were judges Tom Pickerell (director, Shellfish Association), Chris Leftwich (chief inspector, Billingsgate market) and Mauritain chef, Sylvain Ho Wing Cheong.
Lindfors will now represent Britain in the international oyster opening championship in Galway.
Following the three rounds of the competition, chefs Ainsley Harriot amd Richard Corrigan (owner of the event's venue, Bentley's, Swallow Street, emblem of which is a native oyster) and food writer, Alastair Hendy conducted their own round, shucking six oysters apiece. Proving the trio's fastest operator, Corrigan celebrated by slipping all that he'd opened.
A diverse crowd looked on including presenter/actress, Floella Benjamin OBE, weathergirl, Claire Nasir and presenter Henry Kelly.