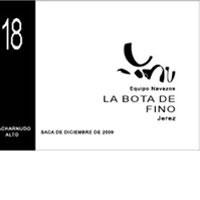 Peter McCombie is discussing sherry, Harvey's Bristol Cream to be exact. 'Ha, ha yes, granny's Xmas delight and that same bottle lived in the cupboard for years, unless a teenager found it!' Yes and I was often that teenager: Bristol Cream, Warninks Avocaaat and Stone's Ginger Wine. – the taste of puberty circa 1974.
Peter is a Master of Wine but unpretentious enough to admit his own sneaking, nostalgic fondness for a drop of the Harvey's. Tonight though he is not subjecting us to a schooner of the sweet stuff but instead is serving up ten very fine sherries indeed, some produced only in a few thousand bottles a year. Compare that to the hundreds of thousands made by producers like Tio Pepe and you understand why some of these sherries work out at £9 a glass here at Brindisa, South Kensington.
These are all connoisseur sherries and Peter is taking us through them to illustrate the characteristics of each, their individual strengths and of course to partner them with Spanish food.
Ten sherries at around 13% or so each is a tough test. Some of us pour the excess away, others knock it back. It's one thing to spit out a mouthful of wine, but it seems sacrilegous to do the same with sherry.
Sherry goes so well with Spanish tapas, and a plateful of thinly sliced Jamon De Trevelez is a good example of this. Unlike Jamon Serrano, De Trevelez is cured high above sea level making use of the North winds. This means there is far less salt used and the ham is sweet if a little lacking in fat on my plate for my taste. I wonder if the staff treat the fat as a perk? After all many daft customers won't eat it. The jamon goes down a treat with La Gitana manzanilla fina, Hidalgo sherry which has breath of ozone in it to blend with the sweet meat. Bone dry and almost transparently light in colour, this is a good sherry to kick off a journey with.
As we munch through excellent prawn tortillas, a taut tomato soup, a somewhat ho hum orange and cod carpaccio salad and a brilliant battered sardine, the sherries keep coming. As we go forward they become more golden, more unique and more complex.
La Bota De Fino is one of the most exciting. As Peter explains, this is a sherry matured in aged butts (botas) in the traditional way under the flor, which is the film of yeast that floats on top of the liquid. In normal wine making air is excluded from the barrel, but here a space 'two fists deep' is left at the top and the bung is only fitted loosely. The result is a unique flavour and the sherry is bottled unfiltered to preserve all the good things in it. A real craftsman's sherry and with a depth of aroma you could plunge a dipstick into.
Sherries that encourage oxidisation develop richer colours, amontillados and olorosos for example are the richest and the 'cream sherries' but it is the flor that gives sherry it's unique flavours. Unlike wine, the grape is not the important thing nor the terroir where it was grown. Most sherries use the palomino grape which is in itself nothing special, it is down to each individual sherry maker to create his own magic, that and the air around the winery.
There wasn't a sherry in the ten there I wouldn't have happily had in the home but as Peter pointed out, contrary to the Harvey's Bristol Cream theory sherries once opened do not live forever happily in the drinks cabinet. A few days tops is all you can expect.
This is no problem at Brindisa Tapas Kitchens where consumption is high so that your glass comes fresh. It's a rare treat to consume quality tapas in a restaurant that really knows its sherries and has such a remarkable range on offer.
Brindisa as a brand is confusing, with its various names and styles – the original in Borough Market still wins hands down for atmosphere, but the branch in Soho is good and here in South Kensington the place is packed most nights.
Not everyone will have tried their sherry selection, preferring to sluice down the Riojas and Temprenillos. Nothing wrong with that of course but with such a stupendous sherry choice on offer to partner such great food it's worth planning an evening based around sherry alone.
Granny probably would cough up her KP Nuts at some of the prices, but believe me these fine sherries are well worth coughing up the cash for.
| | | |
| --- | --- | --- |
| | Glass | Bottle |
| Vides Palo Cortado, Lustau | 7.50 | 22.50 |
| La Gitana, manzanilla fina, Hidalgo | 4.15 | 22.75 |
| Fino San Patricio | 5.00 | 28.00 |
| Oloroso Abocado Alameda | 5.75 | 30.50 |
| Manzanilla Pasada Pastrana, Hidalgo | 5.85 | 31.00 |
| Amontillado Seco 'Napoleon, Hidalgo | 5.95 | 32.00 |
| Amontillado Seco 'Sacramonte', Valdivia | 8.50 | 32.50 |
| Antique Oloroso, Fernando de Castilla 50 cl | 9.75 | 38.50 |
| Antique Palo Cortado, Fernando de castilla | 9.95 | 47.50 |
| La bota de Manzanilla | 9.00 | 48.00 |
| La bota de Fino | 9.00 | 48.00 |