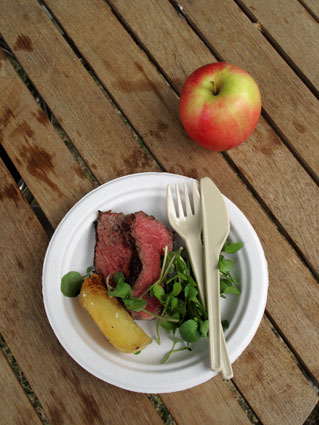 Taste of London was prevented from opening for an evening session for 90 minutes after a bomb threat was found on the premises. Exhibitors were removed from the enclosure during the break period between sessions and only allowed back in at 7pm with the public allowed back in at 7:20. This obviously caused great disruption with many restaurants not able to offer a full range of their food to start as they had no prep time.
It is understood that it was a similar threat to the one at Queens when a message was found pinned to a wall.
Rumours that it was disgruntled gourmets annoyed at the astronomical cost of the event were unfounded
"£25 to get in, which gets you nothing but in, followed by the high cost of tiny portions of often indifferent dishes make this this a very expensive deal," said one man with food stains on his shirt. "But at least for once it didn't rain,' he added cheerfully.
Given that most people wont be able to eat at many places, Foodepedia recommends the Hereford beef at Quo Vadis, the Airfix kit sized foie gras burger at L'Atelier Rubuchon and the Kingfish at Pied a Terre. The Wagyu beef at Tastings and the sushi were not nice at all and best avoided