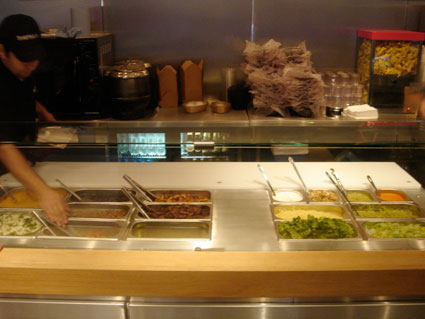 Oh God, the entire Foodepedia office is now lying around like stunned elephants. Tortilla, the 'only burrito joint in South East London' has just delivered us a complimentary bonanza of burritos, nachos and dips for the whole office. Thing is though that one medium burrito is enough to feed a small family while a large could probably feed a small country. They are absolutely stuffed with goodness though and now, so are we.
Apart from the massive burritos there was a ton of nachos and some excellent guacamole – not the processed pap but what was clearly fresh avocados just gently crushed down to retain lovely lumps and texture. The hot salsa was very hot indeed, just as we like it. When you order your burrito to order normally, you build it as per your tastes so each is an individual treat. And you can have it delivered hot to your desk as ours were if you oreder enough.
The first Tortilla restaurant opened in 2007 in Islington, quickly earning accolades such as Time Out's (London's Best Cheap Eats), the Metro ('frankly excellent"), and numerous independent reviewers. In late 2008, the Tortilla team launched a second location in Southwark, directly behind the Tate Modern in Bankside Mix – the only burrito joint in Southeast London. In the space of just a few short months, the queues have stretched out of the door – surprising even the Tortilla team. Local lunchtime crowds line up daily for a tasty and well-priced alternative to their usual packed lunch.
The Tortilla concept is built on the thousands of authentic taquerias that are so popular in San Francisco, Los Angeles, Arizona and Mexico, where only the freshest natural ingredients are used to perfect the handmade salsas and guacamole. Its outlets avoid canned and frozen foods whenever possible.
Islington
13 Islington High Street, London, N1 9LQ
Open Mon to Weds 12 til 10pm, Saturday 12 til 11pm and Sunday 12 til 9pm.
0207 833 3103
Southwark
Unit 11a, 106 Southwark Street, London, SE1 0TA
Open Mon to Sat 12 til 9pm. Closed Sun.
Tel: 0207 620 0285