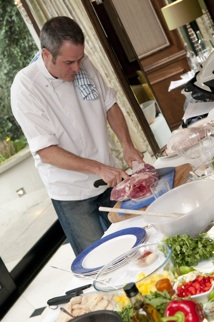 The Goring Hotel recently played host to an event promoted by British Turkey, the body that represents British turkey producers, attended by foodie scribes and representatives from those producers, to see Phil Vickery give a demonstration of the versatility of turkey in cooking. Phil's focus was on turkey recipes for summer dishes, and he had developed four recipes to demonstrate different from those of his that already appear on the British Turkey website.
Phil used the drumsticks in his slow cooked slow cooked turkey salad with spicy Carolina vinegar sauce. The process calls for rubbing the meat with spices, then leaving to rest, before cooking on a slow barbeque for some five hours, basting from time to time, then removing the sinews before breaking up and tossing into a tangy coleslaw salad. We sampled this and the long cooking method left the meat very tender and moist, the rub ingredients gave it good flavour. His barbequed turkey chops (the thigh meat) served with beets sour cream and coriander, were cooked using a similar method and again remained tender and were very tasty. Both of these suited the stronger leg meat really well, and if you have the time and the patience, would be worth giving a try.
Phil also demonstrated two lighter dishes, turkey breast escalope, which he spread with red pesto before coating with breadcrumbs and shallow frying and serving with a fresh pineapple and mint relish, the pesto gave the more subtle breast meat an added hint of flavour that lifted it nicely. His final dish was Moroccan turkey patties, using turkey mince, which he fried off, packing into it a whole range of flavours then rolling into spring roll shapes using filo pastry, shallow frying and serving with a yoghurt dip, these were deliciously spicy. All four dishes would be great for spring/summer entertaining and will impress your family and friends. They can all be found on our recipe pages.
Following the demonstration we had lunch prepared under the supervision of The Goring's Executive Chef, Derek Quelch. On offer was a turkey pie, turkey burgers and a quiche with hunks of tender turkey in it, among an array of other interesting offerings. Trifle and a rather splendidly tangy lemon tart brought the lunch and the event, to an end.
Phil's demonstration brought into sharp focus the versatility of this meat and how it can take on flavours from rubs and marinades. Dependent on how it is cooked it can deliver anything from a subtle lightness to robust full-bodied flavours. You can find more of Phil's recipes for turkey and those from others on the British Turkey website www.britishturkey.co.uk why not take a look, buy some turkey and get cooking?
akandpa
See Phil's great recipes online here