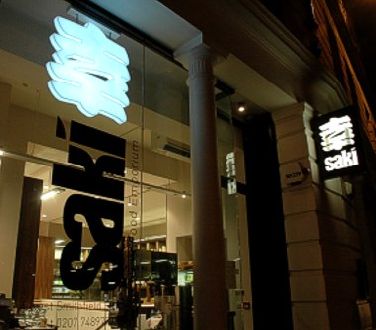 It's a hidden place Saki. In the evening the shop above closes and you could be forgiven for thinking there was no restaurant there at all. This shyness, combined with the Dickensian darkness of West Smithfield at night, means you might never venture down the stairs to the bar and restaurant beneath. You'd be slapping yourself forcefully with a wet tuna if you didn't though because this is a very good restaurant indeed.
Don't take my word for it because I don't claim to be an expert on Japanese food. It's a deep and complicated art form that has as much to do with ritual and presentation as it does with seasonality and quality. I'm told that Koshihiro Murata, the executive group head chef of Michelin starred Kyoto kaiseki restaurant Kikunoi praised the cuisine here though and that's a seal of approval to be trusted.
So what's my ten yens' worth? Well cocktails in the bar made from a massive selection of sakes and sweet potato spirits are unlike anything some preening 'mixologist' is going to shake up for you anywhere else. They warm you up for the restaurant itself with its central area of white stones and frankly rather phallic stalagmites exuding pure Japanese cool. Equally cool are the on show chefs in immaculate whites, sternly creating and plating up the sashimi and sushi offerings. Tables and seating are clean lined and spartan without being boring, the sense is of removing all distraction that might interfere with the food.
We went pretty mad on dishes it has to be said with some serious sake matching too, and kicked off with Grilled Aubergine Dengaku with Red Miso closely followed by Seared Seabass and Scallop Topped Wakame Tartar plus Seared Toro Sashimi in Green Chilli Sauce. The sea bass and scallop were subtle and sublime while the Toro sashimi, the best belly of tuna, dissolved on the tongue assisted by the warmth of the carefully judged chilli sauce. These were however merely 'Sakizuke', appetisers, and we had barely started
Mushimono or Steamed Dish featured the Mushi of the day – Clay Pot Steamed Seafood and Vegetables in Dashi Stock. (Saki change menus both monthly and daily in accordance with seasonality and supply). Here the star was the Dashi itself, almost certainly made from genuine dried kelp and katsuobushi and not some powder alternative. It's a time consuming process and most restaurants won't bother with it, just as most Italians won't make fresh pasta every day. Here though the fine details count.
Next up to the plate was Agemonom, the fried food, in this case Fried Soft Shell Crab with Spicy Shiso Sauce and Lobster Tempura in Black Vinegar Sauce. Often when I have soft shell crab I find there's no one at home inside the batter, as if the crab had dissolved in the heat. Here it was definitely in place and both dishes with their perfectly crisp batter were exemplary. I have a bit of a crush on black vinegar and rather sacrilegiously put it on my chips at home, here it was put to much better use.
Slow Grilled Iberico Pork with Sea Salt and Black Pepper was remarkably good. This pork is of course one of the great Spanish meats from Extremadura and needs little to make it shine thus suiting Japanese Yakimono perfectly. Rib Eye Teriyaki was equally excellent, but the star of the grill was Saikyo Miso Marinated Grilled Black Cod. Some people claim that Black Cod is a bit infra dig, a bit common etc but that only means there's all the more for us oiks. I've eaten black cod in all kinds of places, some of which were way more expensive than this, but I've never had it so good. The fillet with its skin on simply fell apart to a prod of the chopstick and the deep miso sweetness and warmth filled every mouthful
I won't detail the sushi and sashimi, they were all we expected and more, although personally I found the sea urchin too strong, but the 'inside out' eel and avocado rolls were particularly excellent. A sizzling pot of Udon Noodle Ishiyaki Style with King Prawn Tempura, Poached Egg, Vegetable and Exotic Mushrooms was still bubbling volcanically five minutes after it came to table, thank goodness no one from Health & Safety was around to be a killjoy.
Throughout we drank superb sakes by the glass in a range of styles both cold and warm as recommended by the restaurant team, but we put these away for the final coup de theatre, the miracle berry. This berry turns everything sweet so that after leaving it on my tongue for a short while I was able to bite into a lemon wedge and it tasted like a sugary apple. A most extraordinary effect and when we went on to eat Green Tea Tiramisu and Black Sesame and Tofu Panna Cotta, both with home made ice cream, these low calorie desserts tasted decadently sweet. The Miracle Berry could well be a dieter's dream. The effect does linger for hours after though making red wine, for example, taste terrible so it's not a good idea to try it until you are sure you have finished the meal.
This meal nearly finished us to be honest, a superb banquet that demonstrated what this remarkable restaurant is capable of. I didn't try the famous loos, does any one really cares about such things except my mother? All I care about is quality and skill and this restaurant has it in spades. Not cheap at this level of course, but excellence never is. However there are set menus for every pocket and lunch can be a bargain if you take it easy. Highly recommended.