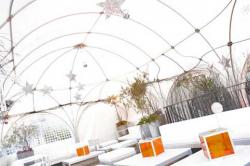 'I can see your house from here,'said my friend next to me whllst looking in completely the wrong direction.
You can't see my house from the top of the Trafalgar Hotel in the Vista bar, but you can certainly see a lot of London. The roof terrace has been tented, 'domed actually', said the manager on his way past carrying cocktails, for Christmas and the view is spectacular. For one thing you're a lot nearer to Nelson than you will ever otherwise be and can actually make out the expression on his face. He looks like a Londoner who has finally made out the number of the approaching red bus and it isn't the one he was waiting for.
The Eye is visible and below will soon be the Xmas tree the plucky Norwegians send us as thanks for saving them in the last war. It is a unique view and stepping outside onto the part of the terrace open to the elements makes it even better as you can really feel London beneath you.
Vista will be open until the end of December, offering these views of the London skyline and the Christmas festivities in Trafalgar Square.
The hotel has also created Nordic-themed limited edition cocktails which we gallantly tried and they certainly induced some Xmas merriment
I'm not a cocktail kind of guy, being from 80's when cocktails were hideously embarrassing, but these plus the view make a very festive treat
Limited edition Nordic inspired cocktails with a twist:
Hot December Nights (served hot)
Buffalo Trace Bourdon, Calvados, a dash of Pomme Vert, a dash of Clove syrup, smashed cardamom
smashed cinnamon
Hot blooded Viking (served hot)
Buffalo Trace Bourbon, Grand Marnier, Twany Port, red wine, cardamon and cinnamon, brown sugar, orange slice, strawberries, raspberries, orange bitters with candy cane garnish
The Fjord Escort
Poached apple, Hanger 1 Vodka Spiced Pear, Chambord, cream, crushed ice, cinnamon
The Dancing Grendle
Jamesons, Drambuie, lemon juice, brown sugar syrup, Ginger Ale, crushed ice, lemon wheel and cherry garnish
Tivoli Lights
Port, Cherry Marnier, Pommery champagne, Flame orange zest
Stockholm Syndrome
Hanger 1 Vodka Spiced pear, white sugar cube with chocolate bitters and Pommery champagne