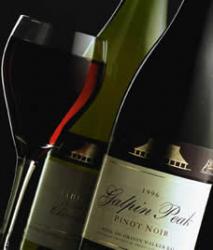 To Vivat Bacchus in Farringdon for a wine tasting evening with food in the presence of the winemaker himself, Peter Finlayson.
The boutique vineyard of Bouchard Finlayson in South Africa, about 90 minutes from Cape Town, is only 20 years old but rated as one of South Africa's top wineries with Galpin Peak Pinot Noir just one of their award winners.
Peter, a large man, whose build and beard hint at his Scottish ancestry, is justifiably proud of his wines and of his son who joins us and makes all the girls go all gooey at his hunkiness. Myself I'm sticking to appreciating what's on the table. Vivat Bacchus are doing a sequence of these Wine Dinners which are great for enjoying food and wine in a small group and learning more about what you're drinking from unpretentious and engaging hosts.
Before each wine, Peter hauls himself to his feet and chats engagingly about his vineyard, himself, wine stories and of course the wines themselves and what he aims to achieve with each of them. South African winemakers along with Australians and New Zealanders are as passionate about their wines as much as any French producer but unburdened by centuries of tradition, snobbery or of course trouble in speaking clear English. And so it's a pleasure to hear Peter talk. The wines, and I am no expert but that is the point of these evenings – to learn, are excellent.
Prejudiced like so many against Chardonnay, I'm forced to reconsider by Missionvale Chardonnay 2008. No boring butter, but explosions of fruit and a hint of oak. It partners the marinated mackerel beautifully. The celebrated Pinot Noir is all it's cracked up to be – brilliantly fruity, crisp and long on the palate. The Magret de Canard it's served with is an excellent piece of duck for flavour but, even for a 'rare' lover like me, could have done with a tad more cooking as cutting it was a struggle.
Hannibal 2006 red comes with a typically gorgeous Vivat Bacchus cheeseboard, boy do these people keep good cheese, the wine is deep and powerful and can handle the stinkiest and delicious cheese with ease.
'Kaaimansgat' Chardonnay 2008 is drier, more mineral than the first Chardonnay, but this is just right when matched with the cake that come to end aa very enjoyable evening. The full menu is below.
To catch up with Vivat Bacchus planned timetable of wine evenings, go to this address.
Welcome Drink
'Blanc de Mer' 2008
●

Slow Poached Egg
Parsley Purée, Chestnut Cream
'Blanc de Mer' 2008
●
Marinated Mackerel
Baby Carrots and Avocado Salsa
Missionvale Chardonnay 2008
●
Magret de Canard (South West France)
Pumpkin and Chicory Caramel and Salmis Sauce
'Galpin Peak' Pinot Noir 2008
●
Fantastic Cheese Board
Hannibal 2006
●
Chardonnay Cake
Almond Milk Sorbet, Honey Cubes, Beurre Noisette Consomme
'Kaaimansgat' Chardonnay 2008