Volupte, 7-9 Norwich Street, London EC4A 1EJ www.volupte-lounge.com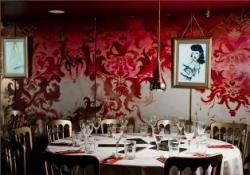 Just a short step from Holborn Circus, Volupté is situated in Norwich Street just off Fetter Lane. It has a long cocktail bar on the entrance level and below ground you enter the richly decorated dining/show area. Decadence is the order of the day at Volupté, rich deep maroon colours on the walls, with feature walls and areas and low lighting to accentuate the feel of something just a little naughty.
Volupté have just introduced three new Tuesday evening show packages: £20 for a main course and the show, £25 for a starter, main course and the show and £38 for three courses, a glass of champagne and the show, all meals are from a set menu.
We went to the first of Volupté's Tuesday show packages, on 3 August and it was very entertaining. Hosted by their resident compare/magician/comedian (Christian Lee) there were four different acts for diners to watch as the sipped cocktails and wine and dined. We were entertained by a lithe young lady scantily dressed and doing tricks with numerous hula hoops at the same time, a juggling act, a more general variety act that included quick change and juggling and using a whip accurately and a singing duo. All of these were very entertaining and the first three used audience participation to great advantage, this intimate dining/show space lends itself very well to good audience interaction.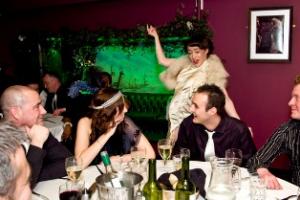 The entertainment was accompanied by some very good food, starters of Volupté's signature tomato salad with soft boiled egg and the Asian style beef salad with warm ginger broth were both really good. Mains of Gourmet Gold sirloin steak, with hand cut chips and the Barbery duck breast with creamed celeriac puree were equally good, both meats requested and served medium rare, they were each cooked perfectly. The accompaniments were well matched in each case. We didn't get to desserts – there was a birthday party on the tables behind us and they gave us a huge slab of a chocolate cake they had brought in to mark the occasion.
We had cocktails at the start of the evening – the 'La Baker' had big raspberry flavours but was not overly sweet as some fruity cocktails can be and the 'The Vamp' had good gin and melon flavours coming through. We had a bottle of a very drinkable and nicely soft medium to full bodied red – Terrassa Tempranillo, from Spain with our mains, which was well priced at £16.50 a bottle.
This was a fun evening combining good food and entertainment with audience participation and the whole room had a really good feeling to it. Volupté is a delightfully quirky place which most people would enjoy visiting, maybe you should try it on a special occasion, like the 20 or so behind us on Tuesday or just to lift your spirits early in the week.
In addition, from 12 August, Volupté are launching 'free' lunch time entertainment. For this the entertainment will run from 12pm until 2.30pm, Tuesdays to Fridays during which guests are welcome to arrive anytime from 12pm and stay as long as they like.
Volupté has developed a reduced set menu for these lunchtime shows and you will be able to enjoy 2-courses for £12.00 or 3-courses for £15.00. This menu sits alongside their usual lunch menu, which we understand changes weekly. The set menu includes lamb burger, served with rosemary focaccia and tzatziki and for something a bit lighter, chilli and garlic tiger prawns served with a mixed leaf salad.
For more details on forthcoming shows, menus etc visit www.volupte-lounge.com or you can call 020 7831 1622 to book a table. It is definitely a little different from any other restaurant lunch or dinner.