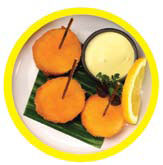 The people at YO! Sushi have recently created eight new dishes in their YO! Indulgence range. These are available only at the YO! Sushi outlet in the food hall of Selfridges, each dish priced at £6 per portion. Having heard about this development we went along to try them. It seemed a little odd sitting down to an evening meal in the middle of a busy high-end departmental store, but having got over that we could see that these dishes could well become popular with both shoppers and those who work in the area alike.
In all we tasted seven of the eight interesting dishes that have been developed in the range, some of which include ingredients that you would be hard pressed to find on all but a few restaurant menus in London. The first of these was Izumida & Shiso Tempura, filleted tilapia cooked tempura style, which was light, crispy and perfectly cooked, and served with ponzu dipping sauce. Next we chose the Hotate Kushi Age, scallops, again perfectly cooked but in a crisp breadcrumb and served with a light wasabi mayonnaise. Ready for our next taste sensation we took the Sake & Tobiko Tartare a salmon and salmon trout roe tartare server with a coriander dressing that had some heat and complemented the raw fish extremely well.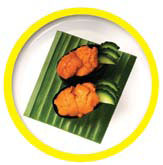 The Ise Ebi & Yuzu Gunkan, roughly chopped cooked lobster with mayonnaise, served on seaweed wrapped sticky rice, was a lovely delicate creation with good lobster flavour. The three less usual dishes we tried were Unagi Yakitori, skewers of eel grilled with a sweet yakitori sauce: this was a soft, delicate flavoured 'fish' that melted in the mouth, and the sauce coating it matched the flavour of the meat very well. The Ama Ebi Sashimi, comprised 6 little sweet shrimp served with salmon trout roe – these were incredibly soft, almost gelatinous in texture, and quite full flavoured. Finally, perhaps the rarer Uni Gunkan, seemingly raw sea urchin, again served on seaweed wrapped sticky rice, which combined interesting flavour with a soft creamy texture: we felt both benefited by the addition of a touch of wasabi and soy mixed together.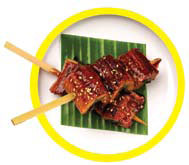 This is an interesting innovative range of dishes. The Selfridges YO! Sushi also provides the usual range of dishes available at all of their restaurants but it's the Indulgence range is that little bit extra special and it is well worth sampling one, two or more of the range, if not all of them.
YO! Sushi, Selfridges Food Hall, Oxford Street, London