218 Trinity Road, London SW17 7HP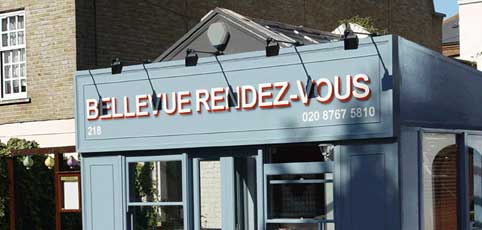 For years I've driven past the site that Bellevue Rendez-vous now occupies and vaguely wondered whether to go in. As the building resembles, to the casual glance, little more than a conservatory jutting out from a parade of shops I hadn't taken my interest any further.
It was last called Mini Mundus, not an inspiring name but then who knows? Chez Bruce does very well around the corner, despite having a name that sounds like something from a Monty Python sketch. Cooking at Bellevue's is Pablo Gallego (not a particularly French name for a French man, but blame a Spanish father) and his partner Stephanie Gandon runs the front of house. A nice woman, but at one point she let out a thunderous unrestrained sneeze, something I recommend she doesn't do when the AA Rosette inspector comes round.
The menu works in classic Bistro style – a set menu for lunch and dinner and a short a la carte. Mixing the two together is quite simple as every dish is individually priced. It's a friendly place but I didn't like being casually told to pick my own table. Asking a couple to pick a spot almost invariably leads to a semi-muttered, vaguely heated, discussion in the middle of the restaurant -' How about that corner?', 'No it looks a bit dark, how about over there?', 'No', 'Well you bloody choose then if you're so picky,' etc, etc. Others coming in behind us had the same problem.
A slightly sharper attitude toward getting the bread and water on the table would be good too. I was thirsty and it niggled that after ten minutes I'd been given a menu but no opportunity to get a drink. The olives on the table were something to toy with, but the herbs over them were desiccated and made a glass of water even more imperative.
Still the Bergerac house red turned up with the water and wasn't a bad drop for the money and a starter of roasted red pepper soup was pretty good too. It needed salt, but the swirls of green, grassy olive oil added piquancy and there was a hint of charred skin, which is fine by me. Snails, which are just an excuse to eat garlic and butter, were okay too. Served out of their shells they were in one of those multi-barreled porcelain jobs the French always use, this helped contain the powerfully garlicky sauce so that I could dip my bread 'soldiers' into it.
I've eaten Beef Bourguignon all over France. It needs a long marinade of good red wine and plenty of carrots and onions and, unless the carrots had collapsed into puree, I didn't see any here. There wasn't any taste of mushrooms, or of the bacon fat that is normally obligatory either, so I think we should legally call it a beef stew, not a Bourguignon. The meat was good though – fall apart long-braised -and the sauce a little too thin but well-flavoured. The beans had been accurately cooked, but I would have liked to have seen them finished in some olive oil, garlic and some cracked rock salt. They were a bit dull. The Gratin Dauphinois was under par unfortunately, some of the far too thick potato slices had not been cooked all the way through, meaning the stock flavour had failed to penetrate properly, and in addition the cream had separated out. I also missed any real hint of cheese or of the garlic that should have been rubbed around the dish.
Cod with spinach and ratatouille was much better; the fish was properly seared to crisp the skin and cooked a point , the spinach was nicely separated from its water and the ratatouille didn't have the nasty acidity that so often seems to be the case, while its components had individual integrity and not mush.
A baked peach with rosemary wasn't a bad idea but whoever decided to serve synthetic squirty cream with it should be taken outside and shot. Anything, or nothing, is better than squirty cream. Luckily the chocolate pudding, which took a reasonable fifteen minutes to make (and a lot less to eat), was a proper piece of kitchen craft. Crisply baked on the outside, lava-like molten choc on the inside, it hit the sweet spot. The cheese board that the chef trundled past looked excellent, but I reckon chefs should stick to watching the cream situation and not acting as waiters.
Bellevue offers generally decent bistro cooking and the prices are nicely on the low side, which has also made it popular with locals. It could do with some tweaks, which wouldn't cost them anything to carry out, but the cosy atmosphere, genial service and workmanlike cooking carries your mood into forgiveness.