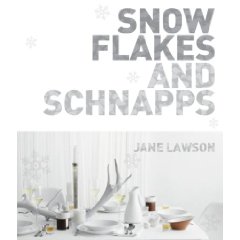 What a great big beautiful book, a book to keep well away from the kitchen lest you stain its Nordic beauty. It looks a million dollars, or whatever they use as currency oop north, and has clearly had no expense spared in its production. It has the cool allure of freshly fallen snow and the textural quality of a reindeer's coat. This is as much as status symbol as it is a cookbook.
Northern European cooking has come into its own recently with many a food writer forsaking the easy allure of the Mediterranean and instead donning furs to explore what food tastes like where the sun don't shine (all that much). The author of this gem of research is actually Australian, so even more kudos for her for leaving her literal comfort zone to visit the lands she feels a family tie with. Perhaps, as she says in her intro, when you live in a land of almost perpetual sunshine then the idea of cosying up against the cold becomes an obsession.
Here is the often unsung land of the caraway seed, a seasoning that seems to be as integral to the region as basil is to the South, one taste and you know exactly where you are on the culinary map. In cold climates food must fortify and ingredients used freshly when in season and stored as much as possible for the winters ahead.
Who wouldn't thaw out to a goulash rich with cayenne pepper, paprika from Hungary and bold dumplings bobbing cheerfully about? How about a spiced wheat beer and bread soup with garlic cream, the unique taste of the pumpernickel bread merging with the allspice and ginger? Dumplings seem to always roll up in the colder regions and here they accompany another dish with beer, this time studded with walnuts and hugging close to spice braised ribs.
We all know bouillabaisse, but a Nordic seafood hotpot can give it a run for its money with the unique additions of juniper berries, a herring and vodka. It may not go down well in Marseille, but it is redolent of the charms of the cold water fish fields. Meatballs also use vodka, as seemingly indispensable as red wine to Italy, and the dill fills the role of fennel in a dish that is topped off with loganberry preserve and accompanied by mash.
Simple is great, but dishes can be cool trendy too such as Duck liver and Tokaji mousse with muscatels and walnut wafers. Or there's Balsamic -glazed sweetbreads with white bean and sage fritters. Chapters alternate between simple and warming, fancy entertaining and of course, winter celebration menus all collected from across Northern Europe. The photography and design are both first class and it seems no corners have been cut to create a cookbook you simply have to have.
Clear down some of those French fine dining books, shove aside Spanish books of dishes you're never going to cook and even elbow some of the Italians. We're a Northern country too and this is a cuisine we could and should try and call our own.
{ISBN:1921259027}