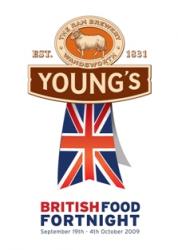 www.youngs.co.uk
From 19th September to 4th October, Young's pubs are running their British Food Fortnight. As part of this, Young's locals including The Ship in Wandsworth, The Devonshire in Balham and The White Hart in Littleton-on-Severn, Bristol will champion the best of British food with a selection of new, seasonal menus and special events.
Joining forces with some the country's specialist suppliers and artisan producers, select Young's pubs will serve a dedicated British Food Fortnight menu which includes pan seared Cornish scallops with black pudding, wild mushrooms and Addlestones cider sauce; classic London Particular; and potted red mullet and brown shrimps with smoked paprika butter to start.
For main course, you might decide to feast on featherblade of Exmoor beef, Bombardier and oyster pie; slow cooked Somerset pork belly with braised red cabbage; wild Scottish lion of venison with puy lentils, black cherries and horseradish jus; or roast pheasant casserole with pearl barley and thyme dumplings. Alternatively, plump for a prize-winning fish cake, chosen from Young's pubs across the country. For dessert, indulge in bread and butter pudding with honey ice cream and apple tuile; lemon posset with gingerbread biscuits; or treacle tart with wicked Glenmorangie cream.
The British Food Fortnight menu is priced at £12.95 for two courses and £14.95 for three and at these prices it is an ideal opportunity to indulge what promises to be excellent produce. You might also choose to wash these dishes down with home-grown brews such as Titanic Iceberg, Young's Bitter and Bombardier.
For those who want to be at the front line of British food why not take part in one of Young's two free fun and informative game masterclasses hosted by renowned cookery writer and author, Maxine Clark. These take place at The Ship in Wandsworth and The White Hart in Littleon-on-Severn, Bristol on 29th September and 1st October respectively, guests can enjoy an introduction to game meats, learn about different cuts, how to prepare them and how you can create great game dishes at home. They will also receive a complimentary goody bag to take home, complete with Maxine's recipe book, selected Highland Game products and British drinks.
Whether you are just a lover of British dishes, or you simply love to eat out at reasonable prices, Young's British Food Fortnight might be worth taking a look at. You can find out more about the fortnight, participating pubs and menus at the Young's site through the link above. It's worth taking a look.