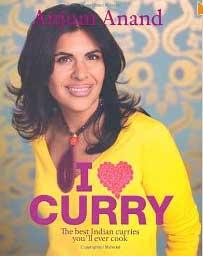 I don't know how many books make a library but, with over 150 cookery books, and about half as many about food (not to mention heaps of pages torn out of magazines and newspapers), all crammed onto three not-quite-collapsing shelves, I don't need another one. Or so I tell myself every Saturday, resisting a dash upstairs in Waterstone's or to the back of The Bookcase, Chiswick's discount bookstore and its eclectic mix of must-haves I'd missed when cash flow didn't. And then I received a review copy of I Love Curry.
I'd struggled with its title – strangely dated, I thought; it didn't seem to speak to me. Nor did its cover – a photo of the gorgeous Anjum, fine, but surely the image of a heart for the word 'love" is, well, so yesteryear. Don't misunderstand me. I'm an Anjum fan having had success with recipes from Anjum's New Indian – but was this one aimed at me?
It flipped open at page 63. And a beautiful photograph of three halibut steaks glistening in a dark, thickish sauce flecked with tiny black seeds and a hint of tomato – Bengali mustard fish. Supper, decided. Fanning the pages again my fingers interrupted the spray at page 43 – a golden tarka dhal sprinkled with coriander. Out came the pen and paper. Shopping list.
The beauty of this book, apart from the tell-it-like-it-is photographs, is its simplicity. Anjum starts by explaining the secrets of making great curries. It isn't just that there are five important stages; it's the point of them and how to make them work – that's what turns this book into a revelation. Take stage five: adding tomatoes and/or yoghurt. As soon as these are added, the ingredients are thought of as a masala, the mixed and spiced base of a sauce, Anjum explains. Nice to know. She points out that the masala lets you know when it is ready by releasing a little oil – so look for droplets of oil as you stir. Need to know.
Anjum's approach throughout is to inform, to build instincts, to help the novice cook with confidence, and the confident cook with ease. There is no bossy lecturing and no hint of know-it-all self-importance. Useful tips, a light touch, flexibility – not the sort of work-it-out-for-yourself laxness that makes a recipe go wrong, but a couple of either/ors depending on your preferences. With a section on spices and another that puts eating the Indian way into our time-poor, stressed-rich reality, Anjum makes everything seem possible.
Which it was. My Bengali mustard fish looked exactly the same as it does on page 63 and it tasted just as Anjum said it would. With very few ingredients, they all play their part she explained. And they did. The rich and deeply flavoured sauce didn't overpower the halibut, its white flesh a glorious contrast with the dark masala. I could taste the nigella seeds through the mustardy kick; the tomatoes, chilli, garlic and turmeric all featured. The same was true of the tarka dhal. Each flavour was distinctly evident, in harmony with the others.
As is typical of Anjum, there is a lightness to each dish. She is meticulously precise with amounts – one and a half small tomatoes (around 150g) went into the mustard sauce; 8g of shredded mint leaves are needed for the light and refreshing raita – and perhaps it is this level of detail that guarantees success. It certainly worked for me. As for other quantities, Anjum's style of eating is to offer a multitude of dishes together so portions are small. If you prefer one main dish with rice and a side, you'll need to double the quantities. But that's hardly a fault in what is, for me, a faultless book I'm delighted to find space for.
I Love Curry – The best Indian curries you'll ever cook