Quick? Yup. Easy? Most certainly. Indian? Well, yes – but also much more besides. Anjum's multicultural upbringing is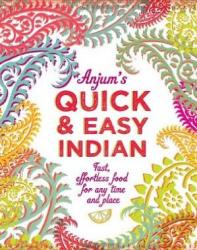 reflected in her innovative Indian food, which explores lesser-seen regional Indian specialities whilst introducing techniques, ingredients and influences from across the globe. 
Anjum makes no secret of the fact she's an all-round foodie. Although it was undoubtedly Indian food with which she found fame, this wonan is endlessly fascinated by all matters culinary. Many a lazy comparison refers to Anand as 'The Indian Nigella' – but I'd be willing to wager that her pantry is even more exotic than The Domestic Goddess's.
In London at least, it's currently more common to come across a newly-conceived 'hybrid dish' than a simple, straightforward staple. But in the main, these 'culinary mashups' usually display about as much regard for one's dietary health as they do for good taste. Anjum's recipes, on the other hand, both fuse flavours and show a healthy concern for nutritional issues.
In fact, 'Anjum's Quick & Easy Indian' flauts quite a few accepted norms. Indian food is infrequently regarded as either speedy or simple; whilst 'fast food' is endlessly synonymous with 'junk food'. But a quick flick through the book's pages reveals nothing but vibrant, wholesome-looking dishes that look like they'd leave you feeling as clean as the imagery.
The recipes are about as far removed from dirty food as can be, and the book is a breath of fresh air in a culinary climate where'dude food' just won't die. I don't know about you, but I for one would far rather have a dinner to die for than die FROM it.
There's no risk of that here; but don't fret – Anjum's not all about lean cuisine. What she is driven by is top taste, and, like many sage gourmets, has simply learnt that sharp, clean flavours both please the palate and benefit the body. Refreshingly, she's no self-styled saint, the first to admit she's not adverse to a shortcut or three.
The'Take One' feature is a clever little concept; sections scattered throughout the book, each recipe trio based around an easily-available'bedrock' ingredient like a tub of ricotta or a jar of chutney. In keeping with the'international Indian' ethos, not all are subcontinental specialities – a pot of yogurt gives you tandoori salmon tacos, spiced cornbread, and'flying chicken wings'.
Anjum unfailingly works in a little India into even the least-likely candidates; her tiramisu is a ginger chai version, bruschetta is flavoured with Bengali panch phoran, a baked ricotta cake gets garam masala-d. It cuts both ways, too, with authentic Indian dishes going international; superfood-stuffed Peshwari naan, pani puri with avocado or caviar, masala potatoes in a rice paper wrapper, not dosa batter.
But look past all the invention, and you'll see that Anjum's dishes are deeply and clearly rooted in authentic, traditional regional Indian specialities. She's done clever things with them, sure, but they're not simply plucked them from thin air – this woman knows her stuff and has evidently extensively explored the kitchens of India.
You'll find a reworked Calcutta classic in Anjum's kathi rolls, a take on Nepal's insanely popular momos using ready-made wonton skins, and a cracking Konkani squid dish that's ready almost as soon as it hits the hot pan. A potato-and-egg preparation might speak to British sensibilities, but it's a classic dish that's purely Parsi in origin. There's a korma, too, but not the Brindian curryhouse contrivance; Anjum's is a light, fragrant Hyderabadi concoction.
The food in'Anjum's Quick & Easy Indian' is consistently diverse and surprising; but it's no surprise that the instructions never divert from being consistent, clear and concise. With five books already under her apron, Anjum is a woman who understands the value of a rock-solid recipe.
As any cookbook-loving home cook appreciates, prime bookshelf real estate is reserved for those tomes that stand the test of time, not the ones that mess up your meals with ambiguous instructions and inaccurate measurements. Like Ronseal,'Anjum's Quick & Easy Indian' does as it says – but it's also a rare example of a dependable volume you can also depend on to inspire and excite.