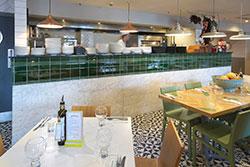 I'm sitting in a comfortable neo-Milanese room, looking out at the torrential rain currently turning Islington from bright and sunny to soaking wet. The decor is smart and modern, with dashes of lime green breaking up the otherwise clean, white interior. A waitress places a starter of butterfly king prawns on Italian bread before me; it looks strangely familiar.
Perhaps I was being lazily unadventurous in choosing a starter I had had before, and which I knew was a sure bet. A few months prior I was at another ASK Italian branch with the Managing Director and Chef Theo Randall, tasting the new menu Randall and ASK had been collaborating on.
The chain is halfway through an ambitious rebrand and relaunch programme which has seen the introduction of a new menu after many trips to Italy to ensure a respectable degree of authenticity, and the company is most of the way through renovating all its branches nationwide to the new look. Islington is one of them.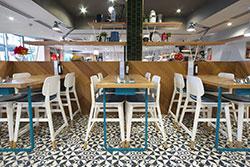 The butterfly king prawns are as good as I remember, cut through the middle and opened up to ensure easy extraction of the meat from the shell. The meat itself is well-seasoned, firm and fresh, with a light scattering of flat leaf parsley. The prawns rest on small, crispy pieces of Italian bread and the whole thing's been baked together to allow the flavours of the prawns to soak down into the bread.
Also having a penchant for seafood, my companion orders classic battered calamari. He enjoys it well enough, though comments that the batter could have been crispier and we both agree that mine was a better call. There's no substitute for experience.
My main of rigatoni al manzo piccante is at least something I haven't already sampled. It's a generous, hearty pasta bake, with beef meatballs and ragu, green chillies and red peppers, topped with mozzarella and Grana Padano cheese. It comes piping hot, as all pasta bakes do, and is spiced judiciously with the green chilli.
It's decent enough, though would have benefited from a higher quality mince from the meatballs. It's also lacking finesse. Pasta, cheese and saucy meat are all well and good and usually an effortless crowd pleaser, but I couldn't help feel that there could have been more to the dish than that.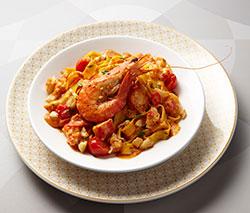 My companion has linguine con frutti di mare, which, other than having slightly too thin a sauce, was commented on favourably. The seafood was plentiful, fortunately, and the sauce well balanced and well judged, light enough not to overpower the delicacy of the seafood.
Unfortunately, my brief foray into the unknown ended as soon as I spied calzone di mele on the menu. This hot, spiced cinnamon apple pie, shaped into a calzone and served with a scoop of vanilla gelato, was a favourite of mine the previous time and it does the job this time too. The apple filling is sweet and flavourful, the pastry is light and vanilla ice cream provides a winning contrast in taste and heat.
A honeycomb cheesecake recommended by our waitress was also much to the delight of my companion; essentially a regular cheesecake sprinkled with chocolate honeycomb pieces which added some pleasant texture and sweetness. We both agree that desserts have been the highlight and you can't go wrong with ending on a high note.
There were a couple of niggles here and there, as you've no doubt gathered. If you're looking for a greater degree of finesse you'll need to double your money and look somewhere else however. At this price point, it's hard to complain.