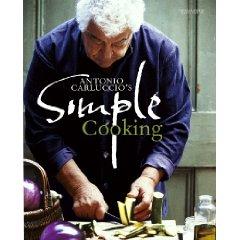 Good old Antonio. It was this Italian bear who awakened a love of mushroom hunting in me, one that has resulted in some gorgeous meals and, thanks to his clear instructions, no deaths yet from toxic poisons. I did see some coloured lights once but that was when me and my mate Pete deliberately ate some 'shrooms that were definitely not culinary.
He used to be on TV a lot did Antonio, back when there was only one cookery programme a week on BBC TV and Jilly Goolden was always on it matching wines to odours she associated with girls' schools. He was genial, a little bit hard to decipher but totally passionate about his food.
This book contains his 'secrets', the recipes, tips and tricks he has picked up in over fifty years in the business. Not many people know that Carluccio is a self-taught cook, one who picked up the art when a student in Vienna. Plus, like most Italian foodies, he had a mother who fed her large family creatively, simply and economically and who then passed on her skills.
As he says, he doesn't cook in the restaurants that he owns or advises, instead he observes and he guides and so he's ideal to help the home cook achieve great results. And of course Italian food is all about the best ingredients cooked in the most straightforward manner. If you are a novice cook, this is a great place to start while for more experienced cooks this is a reminder that basic does not mean boring.
First, says Antonio, stock your larder with the basics. Great olive oil for dressings, simple oil for frying plus onions, garlic, tinned tomatoes, dried chillies and stock cubes. These, plus risotto rice and pasta, are the things you will be using again and again. If you're feeling rich, lay in some dried mushrooms, some parmesan (lumps not the sawdust powder) and some anchovies and tuna in oil.
And then he's off, charging through antipasti and salads that are a doddle to dish up. The emphasis is on fresh, so he makes courgette and green beans with mint, which is so easy a kid could do it. Tuna stuffed eggs are brilliant finger food and if you want hot, then there are a range of soups that move from light to substantial such as one with lots of lovely cannelini and borlotti beans.
Obviously pasta is big in this book, no surprises there, and there is a useful guide to which sauce goes with which pasta as well as useful cooking tips. You might think that's easy, and so it is, but some simple rules improve results enormously. Basic recipes, such as spaghetti with garlic, oil and chilli only needs good quality pasta and excellent olive oil to be a real feast. Pugliese pasta with broccoli and mussels is another powerful, punchy dish.
Other chapters get big and bouncy with polenta and chicken and sausage stew and meatloaf in tomato sauce, while roast duck with Parma ham fat sounds magnificent to me. Oh and the fish section is a thing of wonder, although you may wonder where you can get the sort of squeaky fresh fish you need for the dishes.
A good selection of vegetable dishes round off the book with hardly any desserts mentioned, which is a good thing. I can't be bothered with desserts, just hand round the cheese please.
With tips throughout, 'upgrade' suggestions for dishes for when you want to impress and Antonio's Tiggerish enthusiasm all over it, this is a book that is actually cookable. A great book for beginners and skilled chefs alike and one to turn to when thinking 'what can I rustle up quickly tonight'.
{ISBN:1844007340}