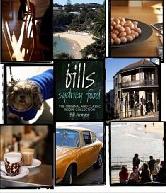 I met Bill Grainger once when he was over in the UK. Aussie sunshine seemed to pour out of him and only his rather uncanny resemblance to Jason Donovan made me treat him with some initial suspicion.
His restaurants in Sydney are legendary. Expat critics and food writers go all misty eyed at the thought of his scrambled eggs served to a crowd that has often been queuing for ages to get into his small little original café in Darlinghurst.
Bill's food is unpretentious; it's not food drawn from a Michelin starred kitchen, it's food you can easily cook yourself if you simply plug in to Bill's passion for freshness and flavour above everything else.
And that's probably because Bill is self taught, he learnt from books like so many of us and that, together with his own unerring taste for what's right, has led him to fame and fortune. He's cooked for celebrities but he's never let it go to his head.
He's a prolific cookbook writer too, but if you only buy one Bill Grainger book then this is the one for you. This is the original collection of dishes that have become his signatures. If this book doesn't make you want to emigrate to Sydney tomorrow you must be at death's door or have no taste buds.
Kick off your day the Sydney way with Ricotta hotcakes and honeycomb butter, or Sweetcorn fritters with roast tomato and bacon. Be good to yourself with Banana Maple porridge with buttered apples, or lay back with French toast stuffed with peaches. How about avocado toast with lime, pepper and coriander? A stunning start to the day by anyone's standards.
If you're still hungry at lunchtime then Corn and ginger soup is ready in minutes, while a Goat's cheese and lentil salad with roasted beetroot is packed full of flavour, energy and nutrients. A tuna salad with soy-mirin dressing reminds you how close Australia is to the Far East, while Chicken and Leek Pies remind you how close the Aussies still are to their ancestors back in the UK.
And so to dinner when a simple Roast chicken takes on an Aussie angle with a yoghurt garlic sauce, a Chinese flavour sidles in with Grilled beef with Blackbeans and a Greek influence is also clear with dishes such as Lamb cutlets with skordalia and parsley salad. The Skordalia is a potato salad with lemon juice, olive oil and garlic and a hint of fiery harissa lights up the palate.
Oh and I haven't mentioned the desserts, but they shine too. Clean, fresh and packed with flavour they end meals in a way that makes you want to get up and dance not lie down and groan.
A great book with so many brilliant recipes it makes your head spin. Bill is an inspiration but he's also a mate. Someone to turn to when food gets boring and you need an injection of excitement, flavour and Aussie sunshine style.
{ISBN:1741965543}
You might also like Feed Me Now by Bill Grainger