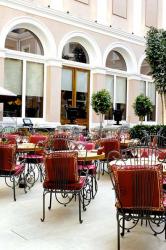 To celebrate the opening of Damien Hirst's new collection 'No Love Lost: New Paintings by Damien Hirst', the Wallace Restaurant at The Wallace Collection in Marylebone has created an exclusive private view and dinner package.
On Friday and Saturday evenings, from October 14th, art lovers and gastronomes can take advantage of a unique opportunity to escape the madding crowds and explore 25 new paintings, including two triptychs being shown in the UK for the first time,. This will be followed by, courtesy of head chef Olivier Geyer, a choice of two fabulously French dinners, a three course set menu and a feasting menu at £45 and £55 respectively.
'No Love Lost: New Paintings by Damien Hirst', marks the artist's return to painting and represents a radical change for the enfant terrible of the art world, best known for suspending dead animals in formaldehyde.
The three course set menu available in the restaurant, situated in the gallery's indoor sculpture garden, complete with its glass roof, includes dishes such as organic steak tartare with hot toasted flute bread and pan-fried guilt head sea bream with tapenade dressing on piperade and rare beef fillet and braised beef parmentier.
The Wallace's 'Exclusive Private View and Dinner Package' is available on Friday and Saturday evenings from 14th October 2009 – 24th January 2010 for £45 per person for the three course set menu or £55 for the feasting menu
The package includes a private view of the Damien Hirst 'No Love Lost' exhibition at The Wallace Collection
To book your ticket call 020 7563 9505 or email reservations@thewallacerestaurant.com
The Wallace Restaurant
At the Wallace Collection, Hertford House, Manchester Square, London W1U 3BN