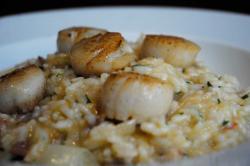 Strada are holding a Risotto Festival in its restaurants throughout September to celebrate the classic Italian dish.
Four new risotto dishes will be available on the menu, inspired by the Northern Italian regions of Piedmont, Milan, Lombardy and Venice where risotto has its roots
The guest dishes are available throughout September, priced from £9.75.
Choose from Risotto All'aragosta e Gamberoni – sautéed tiger prawns and lobster – a fresh and simple seafood dish, or the autumnal flavours of Risotto Funghi e Castagne – porcini and mushrooms with roasted chestnuts. There is also Risotto Zafferano e Asparagi, a saffron infused risotto with asparagus spears and Grana cheese and Risotto Norcina – Italian sausage and chestnut mushrooms.
The guest dishes feature alongside Strada's risotto specialities, including the Risotto Cappesante – pan fried scallops with white wine, lemon zest, chilli and basil – and the Risotto alla Zucca – pumpkin and butternut squash risotto with sautéed pancetta, wilted spinach and toasted pine nuts.
Maurice Maffeo, Strada's development chef, says:
'Risotto is one of Italy's oldest dishes but also one of the most versatile. You can use just about any ingredient, which is why cooking a risotto can be almost as satisfying as eating it.
'The Risotto Festival will offer even more choice to our guests and celebrate all that is so wonderful about this eclectic dish".
Strada offers diners a contemporary and stylish setting in which to enjoy great-tasting, authentic Italian food. As well as risotto, the menu includes handmade pizzas and fresh pastas as well as fish and meat dishes using only the finest fresh ingredients.
Strada also serves purely regional Italian wines, as well as beers and spirits, which have all been carefully chosen to complement the menu. In addition, each table receives complimentary bottled purified water.
For more information on your nearest Strada, visit www.strada.co.uk.
Recipe for the perfect risotto
Rice arrived in Italy sometime in the 10th century. The north of the country took to rice farming four to five hundred years later making risotto the region's signature dish. Risotto is still more widely eaten that pasta in the area.
Maurice Maffeo, Strada's development chef, says:
'The key to a good risotto is practice and patience. Follow my recipe to create the perfect risotto base to which you can add your favourite ingredients.
'Why not try some of Strada's autumn specialities – sautéed tiger prawns and lobster, roasted mushrooms with chestnuts or saffron and asparagus."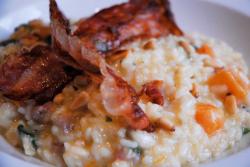 Ingredients (to serve four)
1 litre hot vegetable, fish or chicken stock
1 tablespoon olive oil
1 medium onion, peeled and finely chopped
2 cloves garlic, peeled and finely chopped
300g risotto rice (Arborio or similar)
175ml glass dry white wine
Salt and pepper
25g butter
50g freshly grated Parmesan cheese
Method
Heat the stock over a moderate heat
In a separate pan, heat the olive oil. Add the onions and garlic and gently fry for around five minutes, until softened. Do not allow the onions to colour during this time
Add the rice and turn up the heat. Cook for a minute or so, stirring constantly, until the rice looks slightly translucent
Pour in the wine and continue to stir. Once the rice has absorbed the wine, add the first ladle of hot stock, with a pinch of salt and pepper. Turn the heat down to a simmer so the rice cannot cook too quickly on the outside
Continue to add the stock – stir constantly and allow each ladleful to be almost absorbed before adding the next. After around fifteen minutes, the rice should be cooked but still holds its shape.
Remove the pan from the heat and season to taste
Beat in the butter and Parmesan
Place a lid on the pan and leave to rest for 2 to 3 minutes
Top Risotto Facts
The secret to the perfect risotto is said to lie in the constant stirring required
Risotto literally translated means "little rice"
Some of the best short-grained strains of rice grown in Northern Italy include Arborio, Carnaroli, and Vialone Nano
Traditionally, risotto is eaten with a fork, and each bite is taken from the edges – this way, the rice at the edges slowly cools and the rice in the deeper center part of the bowl stays hot