'Devnaa: Indian-inspired Desserts' celebrated the sweet riches of the subcontinent – but the sibling duo's latest is an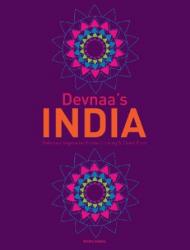 altogether more savoury volume. 'Devnaa's India' demystifies a cuisine that's disappointingly under-represented on bookshop shelves and in restaurants – home-style Gujarati fare. Hearty, humble and pretty darn healthy, Guji food is the just the sort you could gorge on and still feel just gorgeous.
And Roopa's recipes are for pretty gorgeous Gujarati food indeed. Omitting animals from the menu merely creates more space for creative innovation with roots, shoots, greens, beans and lentils. There may be no meat or fish, but there's plenty of protein; lots and lots of legumes in myriad forms.
You might say Gujaratis have their finger on the pulses, so to speak, and can happily base an entire banquet on little more. Furnish your table with snacks like the pea-filled kachoris and steamed lentil dhokra –  a dead ringer for American cornbread -, vats of the festive undhiyu, and comfort classics dal makhani and cholle, and you'll find there's absolutely nothing meagre about this meal.
Mealtime tales from Jay and Roopa's family pervade each recipe in'Devnaa's India' like the awesome aroma of a newly-cracked open pot of their signature spinach and corn kofte biryani. Recipes are for the food the pair grew up with –  the food they love; I love; and you, too, will love. Can you feel the love?
If not, get cooking, and you soon will. It's hard not to fall seriously hard for a book which contains within its pages the answer to a mystery more confounding than the Bermuda triangle, and similarly shaped: how to turn out super samosas with that perfect pastry. I can wager you'd never have cracked it alone – the knack lies in toasting the dough on both sides prior to use – but by jingo, it works.
As does pushing a single pea into one corner to ensure the flavoursome filling stays secure – the sort of nifty trick which becomes instinctive with a lifelong knowledge of a certain cuisine, but totally eludes the keenest amateur enthusiast. But Jay and Roopa are sharing, caring folks, and want you to create great food. There's absolutely no stingy stashing of family secrets here.
But no matter how generous you are, it's impossible to share the secrets of'andaaz'; that Indian intuition that allows you to judge precisely how many mustard seeds will make your salad-like sambharo pop, or accurately guesstimate the correct cooking time for a bhindi masala to make it more'sublime', less'slime'.
So'Devnaa's India' handily helps the hapless overcome the handicap, with a little hand-holding and a lot of in-depth info. The book opens with a concise guide to essential ingredients and equipment, all refreshingly easily obtainable, despite the unusual nature of the preparations of which they're then put to use.
Much of the food in'Devnaa's India' is esoteric. Even items like tadka dal, samosas, pakoras, and lassi, all of which arguably have become as much a part of the British menu as pie and mash and beans on toast, come with a delicious dusting of that magic seasoning:  the home-style touch.
That alchemy is an intangible, indefinable quality in food – one that restaurants really can't replicate. You'll sense it if you eat at an Indian home, explore the menus of streetfood upstarts, or patronise cafeterias and snack shops in Indian areas – and once you develop a taste for it, you'll miss it when it's absent. Buy hey, it's okay – start cooking from this book and you need never be bereft.
Any book that can teach you how to prepare patra like a Gujarati grandma is worthy of great accolade. But most recipes are found only in those tempting little tomes at the checkout of the Indian supermarket, rich in idiosyncratic instructions like'heat a vessel over a low flame for some time' and'cook until pinkish and no raw smell remains' – guidelines guaranteed to befuddle a British cook.
Until now – because these benevolent siblings have ripped up the rule book, presenting all those rare recipes for the common man. If this gets Dave in Dalston rustling up ragra pettis and knocking up khandvi to sate cravings even when his lovely local Gujarati Rasoi cafe is closed, I say hooray – and bring on the besan!
In the manner of a rather lovely lunchbreak,'Devnaa's India' opens with chutney and closes with chai. In between, there are chapters devoted to the snacky farsaan at which Gujaratis are so great; to street food, including chaat guaranteed to get conversation flowing; then to mains and a basket-full of breads. Don't skip a single page.
And do not dare skip dessert. Roopa is renowned for her sweet way with mithai – indeed, those trademark awesome Anglo-Indian sweetmeats are the very reason Devnaa first came to fame. Here, Roopa's restricted herself to a handful of recipes. You, however, will exercise no such restraint when it comes to tucking into chocolate shrikhand, saffron semi-freddo or the creative kheer pakora.
Yum, yum, and thrice yum. This stuff's so far up my alley that Jay and Roopa might as well have crafted'Devnaa's India' just for me. Yet I detect that its endless appeal won't stop at my stovetop. If you like Indian, you'll dig it. If you like veggies, you'll dig it. Heck, if you like food, you'll dig it. Ya dig? Cause I most definitely do.