AKA the book I wish I'd penned. And, were I a British-born son of the Subcontinent with a way with a word, a dashing, dandy-ish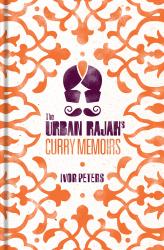 dress sense, and a slim pencil moustache, I may well have pipped him to the post. But the man in the description got there first – so I drown my sorrows by immersing myself in his edible tales, feasting fervently until I have to lie down with a bellyache.
Maybe a cup of long-boiled chai will soothe my greedy gut… but more likely just make it call out for a helping of halwa puri on the side, each scoop of the soft sweet semolina cloaking the tastebuds like a tiny comfort blanket; one of the Rajah's brilliant bazaar breakfasts. Ivor describes the bizarre and the banal both, always in prose that's anything but prosaic. There's magic in this man's masala.
Magic, too, in Ivor's memories, and in the hands of the male cooks who inspired him – his Dad and a t'riffic trio of Uncles. Each resides within a dedicated chunk of the book, the personal pages littered with the ephemera of life – photos, hand-written notes, menus. Stories, anecdotes and recipes add the meat to those good lookin' bones, completing the chronicle of each chaps' cuisine.
Ivor entices and tantalises; invites and delights. Some of his tasty, tongue twisting tales are delivered with that tongue firmly in cheek. Following his instruction to listen closely for the wedding cacophony he insists is present in a bubbling beef bughela rather too closely is a messy mistake to say the least, resulting in a condition the mischievous man might deem'curry ear'.
There is curry'ere – indeed, even in the book's title – but the Memoirs go far beyond gravies. It's Peters' personal brand of Britishness that enables him to explain esoteric Indian dishes like zarda, Sindhi fish fry and seviyan to a brand new audience, demystifying the diverse. He has a rare talent, opening our eyes to the outlandish, filling us with familiarity for a family we've never met.
Ivor introduces us, too, to obscure Indian ingredients like karela – the crazy-looking character he colourfully calls'punk gourd', decorated with'studs and blunt spikes'. He ushers out your culinary concerns with a jaunty wave, then his hand's straight into a bowl brimming with churri – chapatti  hash – cajoling you to dive in too, to take a leap of faith rather than merely dipping a tentative toe.
No recipes for tentative toes – but ladies' fingers get a look in with Ivor's dad's brilliant bhindi bhaji. There's more outlandish anatomy in paya – a rich Pakistani stew that trots out the old trotters and quickly sends this particular piggy to market, albeit, of course, for sheep's feet. The livers, hearts, brains and kidneys too, so I can avoid making an awful hash of offal hash'kata kut'.
Of course your recipe recreations will lack the supreme seasoning that only comes with a slow, lifelong marination in a culinary culture. But Ivor's memoirs are almost pungent enough to act as a ready-mixed masala, injecting a little of his own edible inheritance to your homemade haleem. The food alone is fine; but digested alongside a tale or two it becomes freakishly fantastic.
One chicken dish carries the prefix'stolen', because it's far too good to be left in the kitchen unattended. Similarly, I reckon I might have to watch out if I leave the Urban Rajah's covetable tome lying around, lest Ivor's 'Curry Memoirs' start leaching their seductive perfume. It's a waft as inimitable and unmistakable as Chanel No. 5; every bit as stylishly seductive; and far, far tastier.