58-59 Great Marlborough Street, London W1F 7JY, www.bibigouk.com
{YOUTUBE:t7yYO6TWbRM}
Perhaps your knowledge of Korea is scant and of its cuisine, Hansik, even scantier. We think we know about Thai, Vietnamese, Malaysian and other far Eastern food from gap yahs and exotic holidays but few people have ever visited South Korea and even fewer have ever been North. You may have heard of bibimbap though, the hot stone style of'at table' cooking. You could facetiously call it Korea's answer to fondue or raclette and it's Korea's signature dish and one of its major exports.
And here is Bibigo, often knowingly referred to by show -off foodies as McBibimbap, as it's a big chain restaurant offering'casual' and fast Korean food in South Korea, Singapore, Japan, China, Vietnam, Los Angeles and now London. The Soho branch is the first in the UK and while it doesn't do the full on walk-up fast food thing it does outside the UK, impressions on walking in are of a reasonably priced menu, clean design, speedy service and willing staff.
Of course I know about Kimchi, the fermented vegetables of mass destruction that feature everywhere in Korean cooking. Indeed it's said that South Koreans consume 40 pounds of kimchi per person annually, which is a somewhat frightening stat.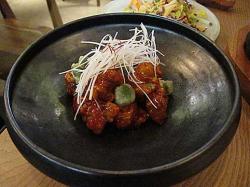 At Bibigo they want to help us Westerners understand the variety of what's on offer though and so the menu has a picture of each and every dish, which makes sense and saves time. Our server was, I think, Spanish himself but he seemed to know his stuff and had the patience to answer our endless questions. As usual with unknown food, once we'd ordered we suddenly had the fear that we'd ordered far too much and as each dish arrived, in no particular order, began to exchange worried glances.
First out of the trap was a chopped salad, because it was sunny in Soho. J, originally sceptical about my choice, was converted. The panorama of salt, sesame, sweet, hot, crunchy, leafy, seedy with the added texture of spring roll wrapper, was excellent. I's the sort of dish I tend to steer clear of when out East in case unclean water has come close to it; more people go down with bad stomach after salads than after cooked meats, but here in UK I could eat worry-free.
Prettily presented dishes began appearing rapidly, Red Chicken certainly couldn't be faulted on the trade descriptions act as it positively glowed, and we liked the chewiness brought on by the deep-frying with the quite fierce chilli heat set against a subtle sweetness. The Steamed Egg Pot was unusual; looking like a giant mushroom trying to escape from a barrel it was half omelette, half scrambled egg with Dashi broth and a toupee of spring onions and a dressing of sesame oil on top. Subtle would be the best way of describing the flavour, but set against the fiery chicken it made sense.
We were seduced into trying the Steak Hache by the information on the menu that the Korean Royal Family was rather fond of it. A Korean version of a beefburger quite fatty and made from a short rib, it was topped by a ginger soy sauce with rubbery rice cake. It didn't impress us commoners and we moved swiftly on to Korean Black Pudding.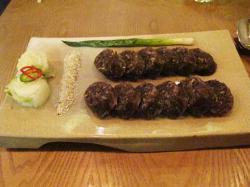 English black pudding has a lot of fat, Spanish Morcilla contains rice, Korean black pudding contains glass noodles. Made in house and served cold and sliced thinly it slipped down a treat; the noodles outweighing the blood and making the texture almost jelly like. A grilled spring onion, a pile of sea salt to dunk the pudding in and some mild, non-threatening, kimchi made this one of our favourite dishes.
But you have to try a bibimbap, so we did, a volcanic cauldron bubbling so fiercely it made us instinctively move our chairs back. As the contents were tossed and stirred they cooked in the residual heat; the spinach in particular wilting faster than Graham Norton at a Hells Angel gathering.
It was hot and spicy, and Koreans I have since asked say it's not spicy enough, but erring on the side of caution isn't such a bad idea. The whole flavour burst mix of vegetables, noodles, bits of beef was well-judged and the Kohot sauce, their own invention, was thick and clung to everything well, I really dislike thin sauces. If I pay for it I want it in my mouth not left in the bowl.
And so to pud. Bibigo Goldfish, a goldfish shaped Korean waffle filled with red bean cream and a scoop of vanilla ice cream, sprinkled with ground almonds and berries, was actually a lot better than we expected. And it had humorous visual value, what more can you ask for?
Probably if you're a Korean food purist you could quibble, but we found the whole thing well-priced and well done. Ideal for a fast feed in Soho and they even do a two course £9 lunch deal.