Prize the box from its bubble-wrapped sarcophagus; unfasten the tabs with the mounting excitement of a 90's kid unwrapping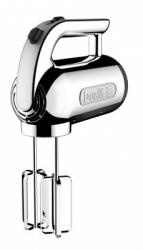 a Furby on Christmas morn; sloooowly lift the lid to reveal my shiny, shiny loot. It's not quite a treasure chest filled with a pirate's bounty, but, to a magpie eye like mine, it may as well be.
'Cause this baby comes in Hi-Shine Chrome. That silver mirror-finish may be mere window dressing, but it affords even the humble hand mixer sexy status. Running my hand over this delightful Dualit's glossy model curves, I feel like donning some ill-fitting Dad denim and rubbing my thighs a la Clarkson. Hubba hubba. Top gear indeed. Now to take it for a test-drive.
Be warned; this whizzy gizmo's not for the limp of wrist. No, this weighty baby's got back, and junk in the trunk. The physical heft hits you when getting your hooks into a bumper batch of bread dough or attempting to whisk a few dozen egg whites into a frenzy. It's the hi-NRG plyometrics principle – it may be a speedier workout, but by Christ it still hurts.
It's certainly a machine built to last, with a powerful throaty purr delivering 400 watts of power to your pancake batter. All proclivities are catered for, with strap-ons including a balloon whisk, dough hooks and flat beaters. Ooh er. Should your tough love result in a spot of wear and tear to the minxy machine, fear not – it's a fully repairable romance. This Dualit's durable, see.
A necessary quality when it comes to attacking volumes of quantity. Eton Mess for a descending hungry horde is all eaten and very little mess – the machine making short work of meringue and putting pillowy peaks into piles of cream in seconds. In fact, the Dualit has been criticised for being just too powerful, even on the lower settings. There's just no pleasing some folk.
It does go at things with gusto, granted. But mastering the art of taming the beast can have serendipitous results. When I underestimate the Dualit's power and overwhip – nay, clabber – some cream, I just keep going… til I end up with a hunk of handsome homemade butter, grinning the greasy smirk of the smugly self-sufficient as I smear it on some sourdough.
Where the gentle human touch is required, man will obviously beat machine, hands down. But where man is called upon to beat a bulky batch of bread dough for an extended period of time, machine is man's best friend, and can't be beaten. For those arduous tasks, plug in, rev up, and bask in the silver stunna's beautifully reflected glory.
The Dualit Hand Mixer is available from leading retailers including John Lewis, Lakeland and online at www.dualit.com, RRP £58.50.