Tempted out of his London comfort zone to the wilds of the New Forest, Nick Harman visits The Pig, named sustainable restaurant of the year by Restaurant magazine 2012
If there's one thing that I like better than cooked food, it's raw food. Not in a Noma or Faviken sense, although that's perfectly okay, but actually growing the stuff. I'm truly at my happiest standing on my allotment and even happier standing on someone else's, even if I do get a little envious sometimes.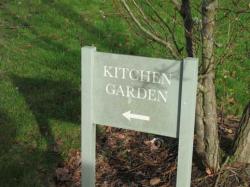 The Pig has an enviable walled garden full of raised vegetable beds and even in the freezing cold gale that's blowing; the enthusiasm of garden man Ollie Hutson warms the heart.'I live in Winchester, which is quite a way away, but this job is so worth it', he says as he leans cheerfully into the wind. Cavolo Nero, or Prince of Wales Feathers are in abundance, but the lower leaves are all missing.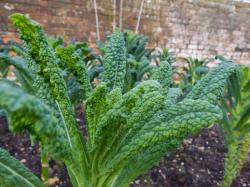 'That's chef, not pests.' smiles Ollie,'the kitchen takes only those bottom leaves right now, it's better for long term growth than taking off the tops.' Also in profusion are purple sprouting broccoli plants, the eponymous shoots finally beginning to show seven months after the seed was initially sown. You really can't hurry good things, not on the veg patch. Under Head Chef James Golding everything on the menu at The Pig is carefully grown on site, foraged or sourced within a 25-mile radius. There are redcurrant and blackcurrant bushes, leeks ready to eat and herbs and fresh rocket under polytunnels. At this time of year the ground is unwelcoming; cold hard and mostly devoid of growth but by summer it will be a mass of all kinds of vegetables.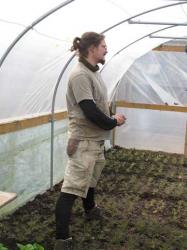 Right now another vegetable bringing some much needed winter cheer is the Egyptian Walking Onion. This isn't a Bangles song, but a curious onion that propagates in an unusual way. The green shoots are eaten initially as a kind of spring onion, but left alone they form bulbs at the top, the weight of which finally makes the shoots collapse and bend over. When the bulbs touch the soil they put out roots and so another plant is born. Over years, the plant can'walk' across a whole garden and be a source of fresh onion flavour all year round.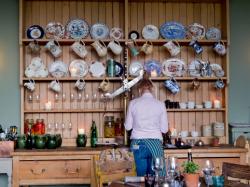 The wind is however getting too much for this soft Londoner and so I gratefully get back inside The Pig. The building dates back to the 17th century and while the facade is that of a traditional hunting lodge, inside it's more eclectic – shabby chic, mixed antiques some looking valuable and some clearly not, plus big chairs threatening to bust their stuffing in front of welcoming wood fires.
In the large conservatory that serves as a dining room, the menu changes all the time depending on what's in the vegetable garden and what forager Garry Everleigh has found on his wanderings. What doesn't change is the porcine emphasis on the menu, which is obviously understandable. I tuck into Piggy Bits, a glorious mix of homemade scotch eggs, air dried karma ham, crispy lardo, devils on horseback, lomo with pickled rock samphire and best of all long crispy pieces of crackling to dunk in apple sauce, the fat quantity and friability just perfect.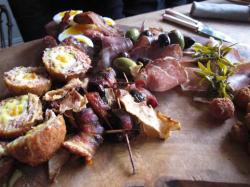 What's a Bath Chap? Well a public school boy I initially supposed but no, it is rather frighteningly a pig's jaw cut vertically in half and slow cooked. You can still see its little teeth! I'm no veggie but you don't have to be Morrissey to find it a tiny bit off putting. Still top marks for having it on the menu and from the quantity I see going out to tables, the locals are obviously made of sterner stuff than I am.
Pork chop is more my kind of dish, a simple thing but with good meat and good cooking it can easily hold its own against more so-called creative dishes, relying on nothing more than its own quality to deliver a perfect plateful. The pigs come from close by Romsey Farm and the pleasantly bitter curly kale comes from the Pig's garden. Add crab apple and mustard sauce plus some billowy mashed potato and you've got all you need.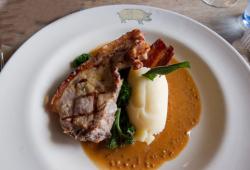 The char-grilled chop is moist and full of flavour and the mustard and apple sauce cuts the fat. Tobacco onions – onion rings deep-fried and coated in cayenne  – are all too easy to eat; sinfully good and almost certainly an American idea, as most potentially health endangering but tasty ones are. Forced rhubarb, presumably not from the Yorkshire Triangle but local, Pavlova, with foraged rosehip syrup and Dorset mascarpone makes a very decent dessert.
The Pig also has 26 bedrooms, should you overdose on the food, and these have the same assorted furnishings as the principal rooms, plus big beds, oversized showers and a forest or garden view. What more could any self-respecting comfort and food loving porker want?
The Pig is 2 hours by car or by train from London, 27 miles from Winchester and 17 Miles from Southampton.
Beaulieu Road Brockenhurst, Hampshire SO42 7QL