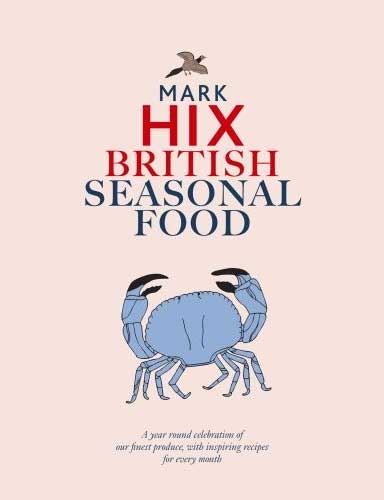 Regional, seasonal. Seasonal.regional. This the mantra most London restaurant chefs are muttering to themselves as they scurry round their kitchens. Vegetables are interrogated harshly. 'Where do you come from? How did you get here? Show me your papers, bitte." It has become a commonplace to say both that vegetables taste better the fewer miles they travel to get to the plate, and that the anticipation and consummation of waiting for each vegetable to be in season is a great part of the pleasure of eating them.
Mark Hix can reasonably claim to have been saying this longer and louder than most. Now owner/chef of one of the new breed of 'British' restaurants, Hix Oyster and Chophouse in London's Smithfield, a tongue in (ox) cheek Dickensian named restaurant that the big critics have been falling over themselves to praise, his CV is an enviable one. Here he spells out seasonality for the rest of us in a way that keeps it simple to understand and follow. Laid out by the month, the book lists what's good and what's not to eat at the time and then proceeds to provide simple yet attractive recipes to match. Usefully, for those without easy access to freshly picked vegetables or recently topped livestock, he also lists the best suppliers, many of whom can be found doing mail order via the internet.
Whimsical drawings evoke the seasons while excellent photography makes your stomach rumble. Mark is a talented writer too, if there's still anyone that reads The Independent they will have seen his pieces, and he deservedly won a Guild of Food Writers Award in 2007. It's good to boast a cookbook with British in the title on your kitchen shelves, one to balance all those books that simply make you sigh with envy at pictures of Mediterranean abundance. It's beauty lies in its championing of all that we have to eat right here and by encouraging us all to stop buying vegetables that have more air miles clocked up than Halley's Comet it's fitting in with current preoccupations nicely. Best of all it's so simple to use, check what month you're in, turn to the correct page and be inspired.
We have six signed copies of Mark Hix's British Seasonal Food to give away. To be in with a chance to win, simply enter our competition here.
{ISBN:1844006220}