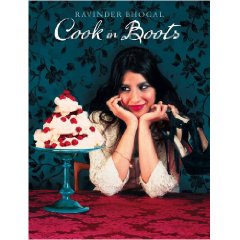 They say you can't judge a book by its cover, which if true would mean an awful lot of out of work book cover designers. The truth is when we pick up any book we are lured to do so by the author's name, if famous, or by the design. What happens next is that we read the cover blurb.
If, for example, I read that 'the author divides her time between her North London home and Devon and this is her first novel' I drop the book immediately. It's another thrusting woman's magazine journalist making use of maternity leave to write a novel about a thrusting journalist working for a woman's magazine, one who suddenly gets pregnant and has to make difficult career choices. Like whether to live in Devon or North London, for example.
Now this book is clearly not aimed at me anymore than that kind of novel is. Ravinder portrays herself as the kind of girl who can't do anything without first layering on the slap, slipping into a low cut dress and putting on a pair of high-heels. She is in her day job, one is somehow unsurprised to learn, a fashion journalist. The book is unsubtly aimed at WAGs and wanna be WAGs, albeit WAGs who dutifully did their homework and got their A levels. I think we are supposed to recognise that it is of course very ironic. I can imagine it will be fabulously popular with gay men.
Still, the cover does carry a quote from Angela Hartnett, no less, which says 'Home cooking at its delicious best' and Angela shills for no one so we'd better have a look inside. Inside, big sweary Gordon calls Ravinder the 'new Fanny Craddock', which we are left to take however we want. Ah hang on, it's all coming back to me now, this is the woman from the F-Word and this is her first book.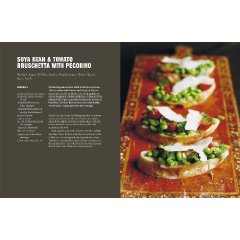 Chapters headed 'Fall off the carb free wagon',' Work to live, live to eat',' Remote control and a meal for one' don't exactly inspire me, but I am merely a heterosexual man and what do I know of the modern young woman's needs? 'Bugger all', says my wife.
Actually once you get past all this desperate theming and dressing up, the recipes aren't half bad. Nothing here I wouldn't happily eat and a great deal that I would definitely go back for. Ravinder does not include many Asian dishes, despite her cultural background, and that's a good thing. Multi-Culti may well be an issue that is best decided in the kitchen, not in Parliament.
Every random page reveals something pretty tempting and there are over 160 recipes, which makes this very good value. Dishes rarely scare with over done complexity and Ravinder is dry and witty with her instructions and good and grounded about silly fads and diets. Some recipes are modern and light such as Lemon, Asparagus and Prawn linguine, while others such as Lamb Stew with a garlic bread crust, will seriously strain anyone's designer waistline.
It is, for all my sniping, a very good book of workable tasty everyday recipes. It didn't need to be angled and themed the way it has been though; it could have simply rested on its own considerable laurels as a great book for the modern woman's kitchen. Now, where are my sling backs? After all that camping it up, I need a pint.
Cook in Boots (Hardcover) -Ravinder Bhogal
HarperCollins Publishers Ltd £18.99
{ISBN:0007291175}