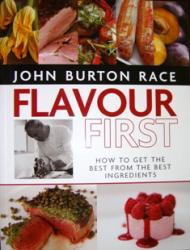 These days, it seems that there are more celebrity chefs than ever, some with more credibility than others. But John Burton Race really has been there and done that… a Michelin starred restaurateur, he has also numerous television programmes under his belt and had books published. All this, plus a life with more ups and downs than most and you have a celebrity chef worthy of the epithet.
His latest book, Flavour First is newly published in paperback form and the central theme is about making the most of ingredients when they are at their peak of freshness and taste. As you would expect from a renowned chef, the emphasis is on quality ingredients; but that's not to say that they need to be expensive, as Burton Race advocates making the most of seasonal ingredients, when they are at their best and most plentiful.
Flavour First is split into chapters based on food groups and so far, no great surprises, the chapters being vegetables, fish & shellfish, meat & poultry, fruit and basics. It's from here, however, the book takes a different approach, with the focus being on a number of key ingredients in each section, including some less commonly used ones, such as fennel, clams, turbot and pigeon. Mostly the ingredients are presented individually, although some are grouped together and for each, there is an introduction from Burton Race, followed (in most cases) by three recipes: all are clearly explained and come with pictures, either of the finished dish, or of steps along the way.
As well as the various recipes, Burton Race takes the reader through the preparation of what might be considered more challenging ingredients, such as globe artichoke, scallops and best end of lamb: these are all fully illustrated with pictures of the process. Helpfully, Burton Race closes with a section on basics, which covers a wide range of kitchen fundamentals, including court bouillon, meat glaze, mayonnaise, and many more.
Overall, this feels like a book for a cook with some confidence and experience, but that said, the clarity of instruction, quality of photography and breadth of recipes means that there really is something for everyone in Flavour First, from the most adventurous cook to the novice.
{ISBN:1844004503}
Phillip Azevedo