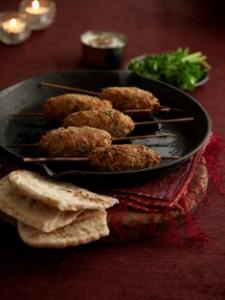 These vegetarian koftas are flavoured with Frico Dutch Gouda, spring onions and flat leaf parsley. The smooth texture of the Gouda cheese is a great accompaniment to the spice and herbs used in this recipe.
Serves: 4
Preparation time: 15 minutes, Cooking time: 12 minutes
Ingredients:
6 spring onions, finely chopped
200 g (7 oz) fresh white breadcrumbs
150 g (5 oz) Frico Mild Gouda wedge, grated
2 g (1 tsp) ground cinnamon
2 g (1 tsp) paprika
4 g (2 tsp) ground cumin
7 g (2 tbsp) freshly chopped flat leaf parsley
2 eggs
30 ml (28 g) milk
30 g (3 tbsp) plain flour
Salt and freshly ground pepper to season
Oil, for brushing
Warmed pitta bread and salad to serve
Method:
1. Place the spring onions, breadcrumbs, Frico Mild Gouda, spices and parsley and in a large mixing bowl. Season well with salt and freshly ground black pepper, then mix thoroughly.
2. Separate one of the eggs and place the egg white in a shallow bowl and reserve. In another bowl, beat the egg yolk with the remaining egg, then stir into the crumb mixture with the milk.
3. Divide the mixture into 8 balls, and then using your hands roll into sausage shapes about 2.5 cm (1 inch) thick.
4. Beat the reserved egg white until frothy. Place the flour in a shallow dish. One by one dip the sausages in the egg white, then roll in the flour.
5. Thread onto skewers and brush with oil. Cook the sausages under a preheated moderate grill or shallow fry, for 10-12 minutes, turning occasionally until golden brown on all sides and cooked through.
6. Serve immediately with warmed pita bread and salad.