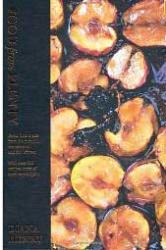 I hate wasting food. If I don't judge the evening meal right, based on historical data such as popularity of dish, individual eaters' capacity, how long I've made them wait etc, then I stick the leftovers in the fridge and hope to make use of them later.
This has led to some rather good thrown together meals, more by luck than judgement, and some horrors which are best forgotten. Now with Diana Henry's Food From Plenty on the shelf it looks like leftovers are going to be deliberate rather than accidental
Henry is well known to readers of the Sunday Telegraph's Stella magazine (unfortunate name it makes it sound like one of those magazines obsessed with lifestyles of the dumb and foolish) and she has written numerous cookbooks and won awards too.
The book was written before the recession, so is not another knee-jerk reaction to the crisis. It's about approaching food in a thoughtful way; using leftovers, thinking ahead, making something interesting from unpromising ingredients, being seasonal and not paying a fortune at Farmers' Ripoffs, sorry Markets.
And it's about recipes driven by what's already in the fridge and larder and not about going to buy a whole lot of things for one particular recipe, most of which will never be used again.
Henry hasn't stinted herself on the production values though , it's a well-presented book with clear type and just enough photos to make it interesting without becoming gastro porn.
The chapter titles are the sort of thing that get junior copy writers sent back to their desks with a flea in their ear – 'racing pulses'- for example but which group together types of cooking handily. Left overs from the Sunday roast, soups, scraps, braised vegetables and my favourite – Lamb, black pudding and mustard hot pot. Now that's a dish I'd like to see on a restaurant menu at any time of year.
Recipes are world-sourced:Moroccan, English, French, Asian and there are over 300 of them.
Things like Cauliflower, bacon and Cashel blue gratin make me salivate and with New Year guilt about it's a good idea to contemplate Beetroot, fennel and radish salad too especially, as Henry suggests, with a piece of smoked mackerel.
With 2011 looking to be as challenging as 2010 for keeping well fed and out of debt, the book hits the spot. And with recipes that leap off the page with zest and practicality it's a book you'll still be using long after we have all started cheerfully eating locusts again.
{ISBN:1845335074}