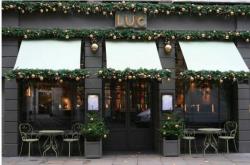 To combat the January blues Cafe Luc in Marylebone are resurrecting their £1 sale in the new year
For just £1 you can choose from their set menu for lunch or dinner.
Cafe Luc opened last summer, the only Belgian owned restaurant in London, the brainchild of Julie Van Oostende and her partner Laurent, a young Belgian couple. David Collard is the head chef, creating a modern European menu with highlights including their fabulous steak tartare, moules ( of course!) and Belgian Speculoos ice-cream. Its based on an European grand cafe, open from 11 until late, and for brunch on the weekends also.
Starter
Celeriac velouté and truffle oil
Iceberg Salad, crispy pancetta, Italian Basajo cheese vinaigrette
Country terrine, sourdough toast
Main
Moules Marinières and pommes frites
Steak with peppercorn sauce, pommes frites
Creamy mushroom risotto
Dessert
Selection of homemade ice cream
Nutella crème brûlée
Lemon Tart
And for the first time you can also try to win a £1 Afternoon Tea which includes:Finger sandwiches, homemade scones with clotted cream and jam, hazelnut financier, Tartelette au Chocolat, Tartelette au citron, served with Mariage Freres Tea.
Terms and Conditions – One £1 booking per table/per person- £1 deal is only valid for the £1 menu- Online bookings only – Successful applicants will be notified by email – You are only entitled to the £1 set menu if you receive a confirmation- £1 bookings are only valid during the period of 7th January to 7th February 2011- The date of your £1 booking cannot be changed