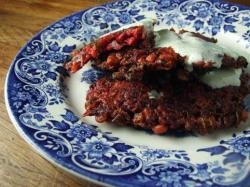 January is surely the time to cut back on luxury items like meat and focus on fruit and vegetables. Winter ingredients can seem a little boring at first but the way to get around this is to try different ways of cooking them. Grated beets make a gloriously red fritter with earthy chickpeas, sharp feta and herbs. They're very simple to prepare too, particularly if you use ready-cooked beets (just avoid the ones preserved in vinegar).
350g cooked beetroot (if cooking yourself, simmer whole then rub the skins away afterwards).
200g cooked chickpeas
100g feta cheese, crumbled
2 tablespoons parsley leaves, finely chopped
4 spring onions, finely chopped
Zest of ½ lemon
½ teaspoon ground cumin
1 egg, beaten
3 tablespoons flour (plain white flour or chickpea flour)
Salt and pepper
Groundnut or vegetable oil, for frying
For the sauce
500g tub thick natural yoghurt
Large handful mint leaves
Juice of 1 lemon
Salt and pepper
To make the sauce, put the yoghurt, mint and lemon juice in a blender and whizz until thoroughly mixed. Taste and season with salt and pepper
To make the fritters, grate the beetroot into a large bowl then transfer to a sieve and press down to squeeze out as much of the juice as you can. Transfer back to the bowl and mix in all the other fritter ingredients. Season with salt and pepper but be sparing with the salt as the feta is salty.
Heat a 1cm depth of oil in a heavy based frying pan. Drop spoons of the batter into the hot oil, immediately spreading out to a flat fritter shape (the fritters need to be the same thickness all over).
It's important not to crowd the pan; you'll probably cook 3 at a time. Cook for a few minutes each side then set aside to drain on kitchen paper. The fritters can be kept warm in a very low oven while you cook the next batch.
Serve at once with the sauce.