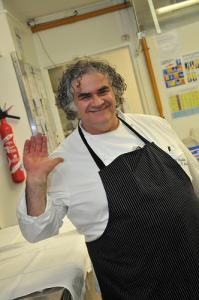 It's the done thing at this time of year to talk about 'Best Restaurants' of last year. Grading and judging them like so many X factor contestants and occasionally going all Simon Cowell on their defenceless asses.
It's the done thing but I don't do it.
I haven't been to every restaurant there is and I rarely go the same restaurant twice. So I have no idea if a place is consistently good or consistently bad, has flashes of brilliance or days of disaster. To judge a restaurant entirely on the basis of one visit is unfair – that day I may have been insanely happy, on prescription medication and forgiving or I might have been in the depths of despond, on dirty drugs and feeling vindictive. My companion could have been marvellous company or a crushing bore. I may have been in the mood for Italian but contractually obliged to eat Indian. So many factors affect a meal. A review is a snapshot of a time and of a place, so don't hold a critic responsible if your mileage varies.
But what I do recall are my Best Eating Experiences. The ones that I can look back on and smile about for whatever reason.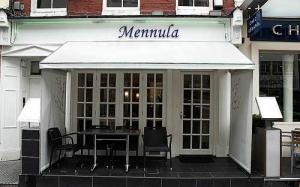 Mennula was a new opening from a man I've known a few years, Santino Busciglio. Lovely chap, natural cook. Finally getting his own place was long overdue and he grabbed the opportunity with both big hands. I remember a great meal accompanied by the sound of Santino's roaring laugh and gutsy Italian cooking done just the way it should be – instinctive and unpretentious.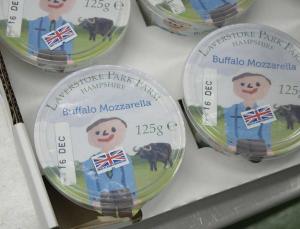 Not a restaurant at all, Jody Scheckter's dining room in his palatial home near his Laverstoke Park Farm was remarkable mostly for the company. As a small boy I thrilled to his Formula 1 racing and to be driven around the farm at breakneck speed by Jody and then to eat with him was frankly all a bit too much. If I could have gone outside afterwards and been given a ride in a Harrier Jump Jet I would have died happy. Laverstoke Park Farm produces excellent mozzarella, sausages and meats and we hungrily ate those as the rain lashed down outside and Jody spoke passionately of his commitment to animal welfare and organic produce.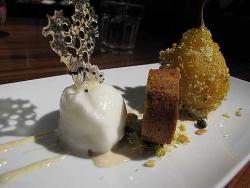 A place I have actually been to more than once though is Cinnamon Kitchen. I love the style of Indian cooking here and I like the room. Not many Indian restaurants are so modern and airy with such comfortable table spacing. Always delicious dishes sensitively spiced and always something new and exciting on the menu. I recall a lunch to try the special low-price deal that became a joyous celebration of modern Indian cooking and stretched out into the afternoon.
Steak, what's it all about eh? For me eating steak is like watching Miranda on the BBC – a large lump of meat that soon gets boring. For Hawksmoor however it's been a ticket to riches. The new Hawksmoor in Covent Garden serves excellent steaks supported by a switched-on social media policy that stroked the online community and had them lining up to be petted. I had a very good steak at Hawksmoor, no doubt about it, but at the end of the day if I want steak I cook it myself. I may not be much of a chef but steak I can do and, it has to be said, do a lot cheaper.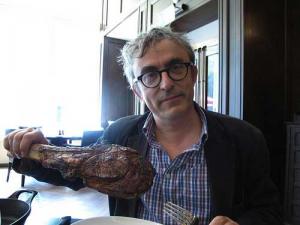 That's why my steak meal of the year had to be at JW Steakhouse. Not that the steaks were better just that the whole experience was verging on the hilarious and was less like being twitter-ganged. When you're eating steak you need something to divert you from the sameness of each mouthful. At JW it was the size of the steaks.
They were the biggest steaks I'd ever seen and a reminder that steak eating is visceral eating that takes us back to prehistoric times. First catch your mammoth, slice it up, cook it in the simplest way possible then gnaw it down to the bone. No amount of poncey side salad is going to change that. The prices at JP were as large as the steaks and the clientele appropriately rich from success at sports, dodgy dealing and possibly armed robbery. Great fun to be there and watch and, to be fair, the steaks were actually pretty good too.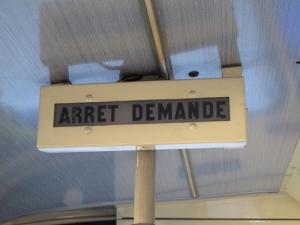 Michelin Star meals can be a bit of a bore- the waiter pointing his pinky at every item on the plate while describing it, followed up by the sommelier droning on about which side of the vineyard the grapes came from. And all this while your food is going cold. Steve Coogan and Rob Brydon captured this problem perfectly in BBC's The Trip, a comedy so well done it made you wonder how the same company could have ever commissioned Miranda and her dated pratfalls.
One Michelin Star meal I really did enjoy was a one -off in Lyons at the Sofitel. Six Michelin-starred chefs cooked one course each for a meal to raise money for charity. The food was excellent, the wines superb, the entertainment rather jolly, the conversation was well lubricated, and not one person got a camera out. Sofitel will be running these events again in 2011 and if you're seriously loaded you should check one out.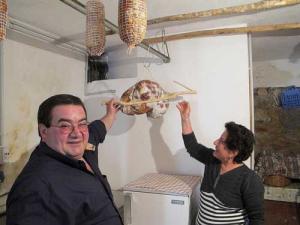 Visiting a cookery school in Abruzzo Italy I and two other writers found we were the only guests in a beautiful but out of season restored palazzo on top of a hill. It was cold and after an early evening flight and a 2-hour drive we were very hungry. The owner gave us a bowl of good soup, a massive plate of superb salamis and some bottles of his dad's Montepulciano and then he went abruptly to bed leaving us in a very large, empty and chilly dining room. To stay alive we ate, drank and chatted until the small hours, periodically sneaking into his kitchen to get more wine until, roused by the increasing noise level, he came down to chase us off to our rooms.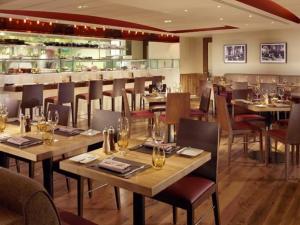 Everyone got awfully excited about Daniel Boulud opening a restaurant in London, even though the man opens restaurants all over the world, normally in swanky WAG hotels. Bar Boulud in the Mandarin Oriental Hyde Park soon had a groove worn in the pavement by the critics charging in to eat expensive beefburgers. I ate the charcuterie instead, which was far more interesting and grown up. The room screamed Harvester but with eyes on the table it didn't matter. You'd have to go a long way to get charcuterie better than served at Boulud. Well, not that far, Paris would do and it might even be a bit cheaper now that the Euro is suffering.
Okay I admit that with my usual reluctance to join gangs I was I initially less than keen to visit Polpo. Too much hype makes my stomach grumble and Polpo was working the media like a ten bob tart eager to knock off work early.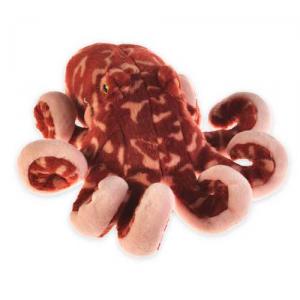 Reservations are taken for lunch, but not for dinner. So lunch it finally was and a good time was had by all which is for me the main point of eating out. You need to go mob-handed if you're to get a taste of all Polpo's little dishes but standouts were the thin pizza biancos and the baby octopuses (octopi?). Some dishes failed to shine, but overall this is a proper Soho restaurant with loud customers hammering the expenses at lunch. Well worth a visit and may even be worth the wait at the bar in the evening too.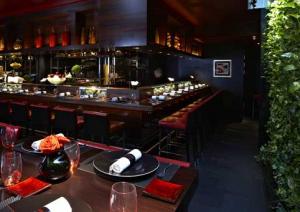 I was late in trying Atelier de Joel Robuchon too, but better late than never. A superb meal sat at the counter that faces the kitchen. This unusual arrangement suits two blokes down to the ground and the food was exceptional – creative without being pretentious, stylish without being vapid and above all packed with flavour. Even being chucked into the street pre-dessert owing to the fire alarm going off, didn't ruin the evening. Apparently some diners did runners on their bill at this point, I couldn't outrun an asthmatic tortoise but even if I were Bolt himself, I'd not have the nerve to do that. It's not as if anyone dining at L'Atelier can't afford to pay so I suppose it was just sheer opportunism.
As we leave the Xmas tree out for the recyclers, pick pine needles out of the carpet and look aghast at the price hikes on VAT and public transport, we can at least look forward to more eating experiences in 2011. Whether the New Year will continue the trend of divided Britain – with some people having more disposable income than ever while others have none at all- is debatable. The main thing is to enjoy food with friends, eat what you want and don't follow trends.
Food is not fashion, it's eternal. Queue up to be the first to see a new film, form a line to get the latest Apple Must-Have, but treat restaurants as what they are. Places to eat and relax not chase after. And if you got a new camera for Christmas, plus a compulsion to take pictures of your food, the person throwing bread rolls at your head will probably be me.