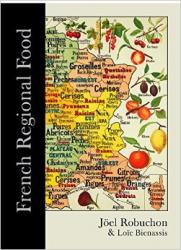 Anyone who has ever eaten in a'Chef of the Century' Joel Robuchon restaurant around the world (there are eight) will have been impressed by the creativity, style and winning flavours.
In this book however, Robuchon is going back to grass roots. Together with co-author Loci Bienassis, a researcher and historian at the European Institute of the History and Culture of Food in Tours he's journeyed around France to find and celebrate the best French traditional ingredients and recipes.
Twenty years of research has resulted in fifty recipes and 200 locally produced ingredients, defining regions by culinary identity and practice rather than lines on a map.
Grilled scallops from Brittany, Macaroons from Bordeaux, Cassoulet from Toulouse, Daube de Boeuf as la Dauphinoise.
And they talk about things that many of us may have never heard of, but in a way that makes at least one reader jump on the Eurostar and try them all. A unique Comte cheese soufflé from the Metz area, a walnut liqueur from Alsace, salted caramel bon bons called Negus in the Nivernais
Each chapter talks engagingly, mouth wateringly about regional specialities, their origins and their history. The recipes are gorgeous and the books production values superb; heavy paper, cloth binding and fine photography.
It would make a great gift as it is a book to be read in the sitting room as well as to be cooked from, and in an age where all kinds of junk food are celebrated as proper food. It's a timely reminder of how to cook and eat well all year round just as the French have always done.
To order French Regional Food at the discounted price of  £20.00 including p&p* (RRP: £25.00), telephone 01903 828503 or email mailorders@lbsltd.co.uk and quote the offer code APG253. 
*UK ONLY – Please add £2.50 if ordering from overseas.
French Regional Food is published by Frances Lincoln www.franceslincoln.com.