23–24 Aberdeen Place, St Johns Wood, London NW8 8JR www.crockersfolly.com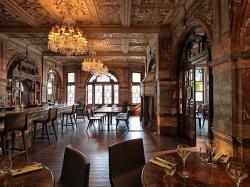 I've not checked for a while. But if the Marble is missing from London's Arch, then I know where it might be – in the newly restored Crocker's Folly – a gastro pub that resides just over a mile up the road, in St John's Wood.
Crocker's Folly is brought to us from the guys behind the much-loved Lebanese chain, Maroush. The Grade II listed building it inhabits was once home to a hotel and Victorian gin palace. Last week, after ten years of abandonment, followed by a period of intricate restoration, it opened to the public once again.
It is only right to start with the building. It has been restored with convincing fidelity to its heritage. The décor is a museum piece of Victorian design: intricate glass panes, cut glass Venetian chandeliers, and so much of the aforementioned marble that I was disappointed when I noticed the legs on my designer Italian chair were made of wood. Bah.
So the detail was striking. And generally, Crocker's Folly has the air of an opulent hotel about it. It is spacious, sociable, and everything feels pretty inconsequential under its grand and imposing features. A huge marble fireplace sits in the private dining area behind the bar. Grafting barmen burned calories mixing Hendricks Gin cocktails in front of a lavish wood-carved back display.
True to its original layout, the space has been divided into two main dining areas. The Lord's area (a reference to the nearby cricket ground) is a more formal and intimate dining space. Then, a more open, thriving and sociable dining area runs along the length of the main bar. And that's where I sat for food.
The Headchef, Arek Bober is from Poland. Arek spent time at Pollen Street Social where he worked alongside Jason Atherton. Seasonal of course, Arek also bills his menu as honest and unpretentious.
My main course was testament to this – a fillet steak (sourced from a small Yorkshire farmer) was cooked in a Josper, leaving it with a mildly charred and smoky edge. It was delicate, lighter in the mouth than helium filled Aero. The inside was perfecting rare. It came with a healthy portion of triple cooked chips.
If I were forced into mild critique, it would be that my starter, a leg of octopus, served on a spelt and celery salad, made for a combination that was a tad dry.
Tonight's other dishes included cured mackerel, with avocado, butternut squash and cucumber, and Miso lamb neck with black garlic and heritage carrots, plus pork belly with Sichuan coleslaw. All in all, the menu was a graceful compliment to the surroundings in which they were served, where big ingredients led the way, and the complimentary detail was striking.
You're wondering about the name though, right? Well there's a hapless little tale about how, back in the late nineteenth century, one Frank Crocker took a punt and got it a bit wrong.
Having built the hotel on the back of speculation that the Great Central Railway was to be situated in St John's Wood, Crocker was undoubtedly rubbing his hands. But flush locals scuppered his plan – after all, what wealthy man would want a disruptive railway running past his backyard, eh?
The result: considerable protestation meant that the station was eventually placed in Marylebone, where it stands today. So that's where the Folly part comes in. And it's old Crocker's ghost, so it goes, that haunts the building in an apt Halloween ending to a rather pleasant night.