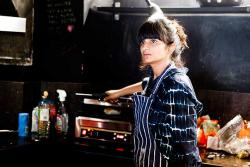 London's restaurant incubator and the designer Tom Dixon, have teamed up to launch a 40 seater in Ladbroke Grove. The premise is to provide a platform for young start-up restaurants, to "demo" their ideas. 
The project's industry backers and mentors include MEAT Liquor founder Yianni Papoutsis, Moro cofounder Mark Sainsbury, Dishoom founder Shamil Thakrar and Flat Iron founder Charlie Carroll.
Each start-up team has the support of Kitchenette's panel of advisers, chef mentors, a ready-made front-of-house team, systems and suppliers, that mean the start-ups can concentrate on the food and menu. 
Diners are invited to leave feedback and reviews, providing data that Kitchenetters can use to prove concept, raise money and accelerate opening up their own dream permanent site.
First up in the space is Pao Wow: light, modern Indian food: from London-based Bombayite Anshu Ahuja, whose residency comes off the back of a summer trading with Street Feast and Kerb.
Anshu says: "After a summer of street food, I felt excited about introducing London to a lighter, fresher take on Indian cooking, from my home city. No curries here – but fresh and distinctive small plates with flavours from Maharashtra, Kerala, Goa and Karnataka. If the feedback from our Kitchenette residency is good, the dream is to open a neighbourhood place next year with informal, fresh Indian food, brilliant suppliers – and a great wine list."
Future spots in Kitchenette's restaurant will go to New Orleans po' boys, Japanese barbeque, with some spots still open for new applicants. Budding restaurateurs who wish to apply can apply to Kitchenette via a simple online application form. 
ON THE MENU
Small Plates
Homemade Bombay mix 
Avocado sev puri 
Fofos – Goan salt fish croquettes with green chilli & lime aioli 
Bombay peanut salad with Romaine lettuce, mustard seeds, red onions, moong beans & lime 
Smashed chickpeas with diced mango, red chillies, coriander & yoghurt 
Pan-fried chicken with tomato, yoghurt & fenugreek, crispy okra & fried kale 
Roasted squash and cauliflower, with Bombay salsa verde
Roast vadouvan coley with zest relish 
Slow-cooked Keralan brisket with caramelized red onion chutney & beetroot raita 
Sweet
Indian-style coconut fro-yo
Cardamom and pistachio cake with shrikhand