Dedicated viewers of Masterchef, and are there any other sort, will remember Emma Spitzer from 2015 as the only female chef in the final. As it was, she didn't win but her dishes were certainly good enough to charm all of us out in telly land.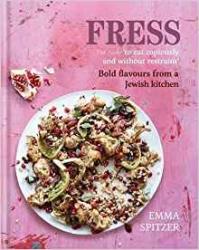 Fress is a Yiddish word, meaning to eat copiously and without restraint. My grandmother, who came from Jewish stock, had it as one of her few Yiddish words. Her cooking was not up to much though, so it was ironically used by my grandfather.
Anyone familiar with the usual Jewish cookbooks may be looking away now; they can be rather samey and not exactly tantalising. However Spitzer has done better by creating a contemporary Jewish cookbook that has a lot of Middle Eastern flavours in it.
Bringing in those flavours, especially from Algerian recipes she loaned from her mother in law, makes Spitzer describe her cooking as Ashkenazi meets Sephardi.
So we find chapters on small plates for sharing, soups, big plate food, dressings, pickles and sauces, sides and salads and sweets and baking. Caramelised butternut squash with whipped feta and zhoug; seabass over spiced chickpeas with confit cherry tomatoes and Moroccan pesto; fried aubergine in tomato sauce, amba spiced courgettes with barberries and labneh plus tahini banoffee sundae and dark chocolate and orange tart all get a look in.
Yes chicken soup is there, as is chopped liver, but the real mouth-waterers are things such as chicken and pistachio meatballs with coriander tahini, and seared duck breast with a black za'atar crust and braised puy lentils. All big flavours and bang on trend in London right now.
This kind of cuisine is always excellent for vegans and vegetarians too, Freekeh risotto with roasted cashews and minted soured cream, for example, or  Amba-spiced courgette with barberries and Labneh. And the fennel and potato latkes with lemon and chive aioli sound gorgeous, as does turmeric-battered cauliflower with chili and saffron yoghurt.
The photography is good, the recipes all do-able. This is a book you'll want to cook from every day whatever your religion.
{ISBN:1784722030}