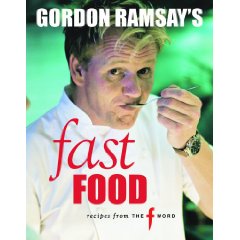 Poor old Gordon. Well not actually all that poor, the restaurant empire like the Roman one may be no more but he isn't down to his last million yet, there's still some way to go. The TV shows in America are paying him loads to ritually humiliate people who mostly deserve it and over here he is still likely to pop up on our screens from time to time and earn a decent crust.
The F Word was a fun show, even though it was necessary to switch channel when Janet Street Porter was on. Her latest crusade in the Daily Mail is to get the French to open their shops on Sundays and stop closing for lunch the rest of the week. This will end the terrible inconvenience she suffers on her holidays. Nice one Janet, obviously doing their shopping on a Sunday and having no lunch hours the rest of the week is just what the French people want. Stupid woman.
This book of recipes has been out a year or two, but hasn't dated. One should never forget that under the pantomime horse that is Ramsay, there is still a skilled chef with good taste galloping about. Here he is concerned with meals that can impress without taking all day to make, not an original concept but still a worthy one.
If you watched the shows, you saw the recipes, even if the pace was too quick to note them down. Here you can draw breath and make unhurried choices. Short sections such as starters, soups, working lunches and desserts plus complete menus for everyday and entertaining. Why do we call it entertaining by the way? Is it because it's great fun to watch friends get in a flap and drop dishes?
The dishes are certainly easy enough and still desirable. Sea trout with fennel and watercress is dead simple and baked chicken with aubergine, courgette and and tomato ragout is the kind of thing that forgives bad timing. Desserts are kept doable to, with things such as roasted nectarines with amaretti cream – as long as you don't forget they're in the oven they are almost foolproof. Melon with tequila and lime is pretty easy too, if you can resist swigging from the bottle as you make it. That way lies disaster, take it from one who knows.
Timing plans are provided, always useful, and there's good advice on what to keep in stock (including stock cubes) to prevent last minute dashes to the shops. Throughout this book there are decent pictures that don't make you feel inadequate by being over styled, and if you're a fan of Gordon's beefy features he appears in quite a few of them, often wearing the same shirt. Which suggests either they shot it all in one day, or his wife has finally left him and taken the Zanussi instruction manual with her.
A down to earth book full of good everyday recipes that aren't dull. If the TV career ever goes ***s up, Gordon could always go back into the kitchen.
{ISBN:1844007618}