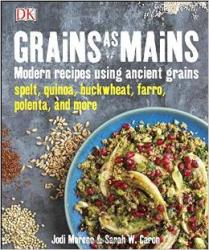 Have you tried giving up carbs? It's not easy doing without bread, pasta and potatoes but those that try it invariably report they feel better within weeks. Annoyingly. Trouble is, how do you replace the bulk that carbs contribute and still leave the table feeling sated?
Well for thousands of years civilisation managed to eat perfectly well by eating grains, and whole grains are complex carbohydrates that are often gluten-free,  high in fibre and protein, low-fat and can help you feel satisfied for longer. Whole grains also contain plenty of essential vitamins and nutrients and antioxidants and can aid in controlling high blood pressure, heart disease, diabetes and cancer.
So given all that, why don't we eat more? Well perhaps we just don't know enough about all the kinds of grains available and lack the recipes to help them reach their potential on the plate. This book certainly aims to fix that.
Fourteen or so grains are featured, with some you have doubtless heard of and probably eaten such as cornmeal, millet and quinoa, to some that may be totally new like amaranth, sorghum and kamut.
The first thing the book does is divide the grains into ordinary and gluten free, with a chart showing the nutritional breakdown of each one, before using plenty of pictures to help you cook each kind of grain perfectly.
From there it's into the recipes; with Breakfast and Brunch, Soups, Salads, Stir-Fries, Risottos and Pilafs, Good-for-you burgers and even desserts. How about amaranth -crusted tofu with green beans and black rice, or warm harissa, sorghum and chickpeas salad? Perhaps avocado, coriander and lime tabbouleh?
It really is an eye-opener of a book, one that will have you scouring shop shelves for unusual grains to get into the cookpot. Many are available at health shops if they can't be found in supermarket, or of course easily looked up online
Laura Agar Wilson is the creator of keepinghealthygettingstylish.com
{ISBN: 0241185378}