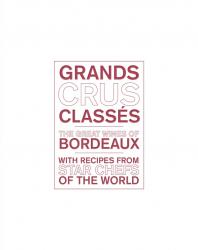 Some books become well-used reference items, consulted regularly and trusted sources of information and inspiration. Others are to be enjoyed, devoured even, but are ultimately coffee-table items, dipped into and savoured – and none the worse for that.
Grands Crus Classés (sub-titled The Great Wines of Bordeaux with Recipes from Star Chefs of the World, which pretty well sums it up) could function as either, but for me, is very much a coffee-table book – apart from anything else, it is a mighty tome and not best suited to the kitchen. Running to almost 400 pages, it has notes, pictures and recipes, all of the highest standard. It looks at the best of the wines from this most famous of wine-producing regions, each one of the 87 Grands Crus Classés, as classified in 1855 is described in impressive detail. Each château has its own page, with details of the history, sometimes going back for centuries and accessible notes on the wines that they produce. They are then paired with an original recipe by one of a dazzling array of chefs – the inspiration and aim of the book being to demonstrate that great French wines can go with cuisines from around the world, not just France.
The recipes inside Grands Crus Classés are, without exception, things of beauty, but probably more suitable for the experienced, confident cook; I can't see a novice tackling squab breast with cocoa tuiles, cherries and cocoa barbajuans; or turtledoves with chocolate air, touches of Pedro Ximinez, tarragon and coffee. That said, each recipe comes with comprehensive instructions and a gorgeous photograph, and there are less challenging dishes, but overall, the average home cook might well struggle to reproduce the ravishing pictures.
As you might have gathered, not only are the recipes sophisticated, but they use premium ingredients. And unsurprisingly, the wines themselves are towards the higher end of the market – from a very quick internet search, Château Mouton Rothschild Pauillac 2005 comes in at over £600 a bottle, though a Château Cos Labory Saint-Estèphe 2005 was a more wallet-friendly £40. Grands Crus Classés has an RRP of £40, so is not, perhaps going to have universal appeal. But if you're a gastronome or an oenophile – or are searching for a great gift for one – this could be the book for you.