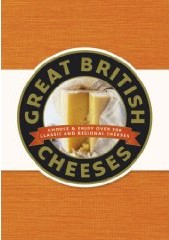 Not so long ago a book of Great British Cheeses would have been a contender for the title of Shortest Book Ever. Stilton, Cheddar, Wenseleydale and errmmmmm does Primula count? Today we are lucky to be in the middle of a British cheese resurgence with more people making cheeses than perhaps ever before. Great cheeses too, ones that can, and often do, appear on the tables at top London restaurants. In fact there are now over three hundred regional cheeses to choose from with a breathtaking range of taste and texture available. All you need to is to know where to look and that's where this handy pocket guide comes in
From a great intro on how cheese is made, to how to buy serve and store, author Jenny Linford goes on to rate cheese by type: fresh, soft, semi-soft, hard and blue cheeses. Each cheese gets its own photo and detailed tasting notes with a summation of its shape, weight and milk type. It's fascinating to see the variety in all its mouth-watering glory and also to see how many local producers are within reasonable reach of London.
In fact a simple Google of just some of the producers' names reveals that you can pick up so many of these cheeses without even leaving home via mail order, and many more appear in farmers' markets all over the country and, of course, in the big cheese shops in London. There's probably not one cheese here that you couldn't track down if you tried hard enough and who wouldn't want to try a Sussex Slipcote, a Gunstone Goat or a Warwickshire Truckle? Great names, great tastes. Why settle for a chalky Camembert that's clocked up the air miles when you can have a selection of cheeses that could have walked to your door in an afternoon? And in the case of Stinking Bishop it could have walked to your house and kicked that door down, it's a cheese with serious attitude. A lovely little book that tickles the tastebuds and makes you want to get the crackers out straightaway.
{ISBN:1405334363}