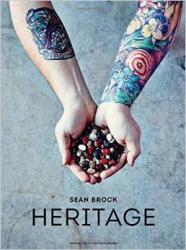 What is it with chefs and tattoos? Is there a male chef out there under 30 who hasn't got ink all up his arms and probably all up his back too? I don't doubt a few women chefs have tats as well, but if they do they're a bit more discrete about it.
I kind of blame Anthony Bourdain, who with his book Kitchen Confidential created almost single handedly the image of the chef as part Hells Angel, part tortured genius, part brainless thug. To be a chef wasn't so much about creativity; it was about pulling 25 hour shifts without complaint, getting drunk when not actually at work, heaving up in the bin at 7am and having fist fights by the fish station. And of course, getting tattoos to show how just what a mean slicer dicer you were.
And so it comes to pass that the front cover of Sean Brock's Heritage is an image of two heavily tattooed arms holding out a handful of beans. The arms are in fact Brock's own.
He is, according to Time Magazine,'the most conspicuously gifted chef of his generation', which is a no punches pulled kind of accolade for sure. You, however, may be thinking'who the hell is Sean Brock?'
He's a Southern chef, yes sirree Bob, and he's proud of it. He owns Husk restaurant where only indigenous Southern food and ingredients are allowed. He's well known to American audiences from season two of Anthony Bourdain's "The Mind of a Chef" on PBS, for which he was nominated for an Emmy, and this cookbook has been widely anticipated in the USA food world accordingly.
It's not what you expect; think Southern food and immediately you usually think of men the size of small trucks barbecuing meat not much smaller and covering it in thick, overpowering sauces. If it isn't pig based, it doesn't get eaten,
Brock loves pig as much as any Southern man  but while he started with pork he moved on and up. This book is packed with dishes that are as artistic and creative as anything coming of France or Spain and while pork is present it doesn't take over the pen.
Brock is taking the old and making new. Each page is a fresh delight with excellent photographs, truly exciting dishes and his ever present commentary, background filling and tips and tricks. If you want to learn how to build a pit big enough to roast a whole pig in, there are even instructions for that too – although you may need a bigger garden. Failing that you can cork cornmeal fried pork chops with goat cheese, smashed potatoes and cucumber pickled green tomato relish, a dish guaranteed to get any food blogger fainting with excitement and lust.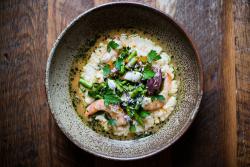 But slow cooked lamb rack with spring favas malted barley and roasted chanterelles show Brock can cook grown-ups' food too. Grouper with pan roasted and pickled butternut squash with nasturtium juice and hazelnuts would, with a more accessible fish, not look or taste out of place in any of London's fine dining palaces.
Many of the dishes are fiddly, the sort of food you go to restaurants for because you really can't make them at home.  Crispy sweetbreads with spicy red pepper glaze, egg, broccoli and puffed rice for example. The actual ingredients list runs to around thirty three things and the prep work enormous. A large section on pickling and preserving is full of good stuff and the desserts section is beguiling and the section on snacks and cocktails is a dream.
All in all this a book of dreams, many of the recipes you'll think about cooking but never will. But Brock's writing on history and sense of food place is worth the cover price alone and no modern food fan can fail to be impressed at the culinary creativity coming from such an unlikely part of the world. Oh, and the tats are impressive too.
{ISBN:1579654630}