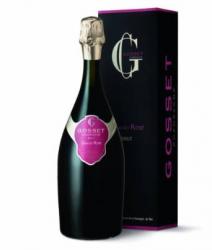 Gosset, founded in 1584, is the oldest wine house in Champagne and now headed by Jean-Pierre Cointreau of cognac fame, it exports 65% of its production to more than 70 countries.
Gosset wines are made from a blend of Pinot noir, Chardonnay and Pinot Meunier. The house is known for its slightly sweet Brut Excellence and its vintage prestige cuvee Célebris and Grand Millésime. The house also produced a commemorative wine the Quatrième Centenaire.
Gosset avoid malo-lactic fermentation, this may not mean much to most of us so think'natural fruitiness'.
Quality is key, while nearby Bollinger of Ab Fab fame and Moet turn out millions of bottles a year, Gosset stick to a relatively modest 1.3 million bottles.
The Gosset Brut Excellence NV is a blend of 42% Chardonnay, 45% Pinot Noir and 13% Pinot Meunier with a high proportion of reserve wines from previous vintages (almost 25%).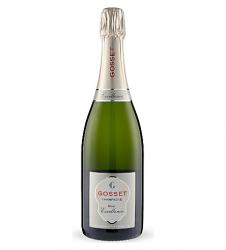 The Gosset Grande Réserve NV is a punchy toasty blend of several vintages made of 46% Chardonnay, 44% Pinot Noir, 10% Pinot Meunier, and a good one to serve with food that's a bit more substantial than canapés. It comes in the "Bouteille Ancienne" with deep red labelling.
The Gosset Grand Rosé NV is blended from 56% Chardonnay, 35% Pinot Noir and 9% red wine from Ambonnay has strawberries and a dash of lively apple underpinned with strong minerality.
Champagne Gosset, Grande Réserve, Brut has'a biscuity palate with an elegant and assertive finish.'
The big boy is Champagne Gosset Celebris only ever produced in the best vintages
Champagne Gosset Celebris Blanc des Blancs produced from 100% Chardonnay and with a dosage of 3.5g/l, this is a low dosage, extra brut champagne. A blend of four previous vintage wines this is a pure, rich and creamy champagne.
Champagne Gosset Celebris Vintage Extra Brut has very low dosage but a pretty high price, around £140 in Selfridges.  The NV is a more palatable £46 also in Selfridges.