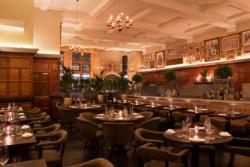 I stopped going to local Indian restaurants many years ago, roughly at around the same time that I stopped coming out of pubs at an acute angle. If Zaika was my local though I'd be going in sober and frequently, after all if I could afford to live in Kensington I could afford to eat at Zaika.
It is, I am suggesting, a bit expensive, but that goes with the postcode and the rents and the overall costs of running a restaurant this swish. A former banking hall it's been refurbished splendidly with art all over the walls in the manner of Berners Tavern, a design idea that stops the big room being echoey or feeling cold. It has opulence without bling with its wood panelling, high carved vaulted ceilings and double-height windows with views over Kensington Palace Gardens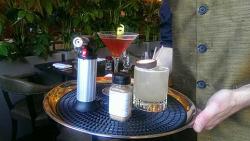 Awadhi cuisine, which is traditionally influenced by the middle-east and uses cooking methods resembling European techniques, is the style of food from executive chef Sanjay Gour who has worked in many very good non-Indian restaurants as pastry chef, but has now moved away from the ovens to the pans and on this lunch showing he seems to be a natural.
The menu is blessedly short but choice is still difficult as, rather like Freddy Mercury I want it all. So we have a selection for starters. Peshawari Champen are lamb chops marinated with raw papaya, paprika, fennel and star anise and they are drop dead gorgeous, the chops thick but melty with the meat verging on the medium rather than the rare and with searing that makes you grin happily. That sour shot of papaya cuts the tiny amount of fattiness.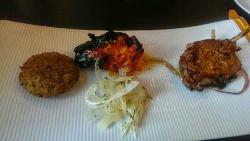 Lamb mince patties – Shammi Kabab – with lentils and whole spices, served with mint chutney are crunchy-coated and gently fluffy inside and with serious and sudden blasts of chilli. Simple but delicious. Tiger prawns, fiercely grilled to a charcoal black exterior, are moist with red pepper marinade and as fleshy as a Botticelli bottom. It's food to linger over but is all too soon gone.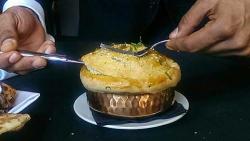 A goat biryani served with Bhurrani Raita has been cooked classically, the pot sealed airtight with dough. This means that it can't be checked before being sent out so it's all down to chef's expertise and when ours is cracked open at table aromatic steam wafts out and the rice is right,  each grain a wizened witch's finger, while the meat is falling apart and packed with subtle flavours.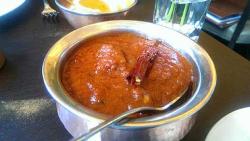 Murgh Handi Lazeez   – Chicken tikka in a sauce of browned garlic, tomato, cream and spices is good but a bit too sweet for me so I leave it for C while I ladle vast quantities of Dal Makhni – slow-cooked black lentils – onto my plate. They are earthy, rich and enormously satisfying. A range of breads – Naan, Truffle Naan, Roti and Pudhina Paratha come in handy at this point, although truffled naan is a bit odd and not my favourite.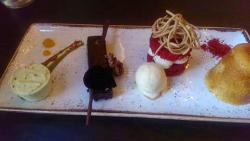 The desserts, given chef's background, are of course not dull and predictable. Red-Velvet Sponge with milk fudge and sour cherry sorbet is beautiful to behold and a gluten free coconut bounty bar with nougat, apricot and popcorn is delicious but too rich and filling for me by this stage of the proceedings. I do happily demolish a rum baba with vanilla ice cream though.
With creative cocktails to kick off and a menu full of unusual ideas, Zaika is certainly a cut above the average. It's no more than you'd expect of a sibling of Tamarind of Mayfair of course and as a local it's lovely.
Fancy an Indian? These are hot: