Everyone's an expert, or think they are, at barbecuing meats but who cares about the veg? You will, once you have this book firmly in your BBQ mitts

Vegetarians usually get short shrift at BBQs. In fact if they're vegan they can't even get close to the grill, as meat will be everywhere.

And the meat eaters don't always do that well for choice either; the veg sides on offer usually being just coleslaw or some blackened red peppers.

Vegetables do love a good fire though, the same smokiness that elevates meat also does wonders for veg and this book is packed with 'vegetable-forward' grilled greatness.

Vegetable-forward' as some recipes do include meat, but not that much and not too often.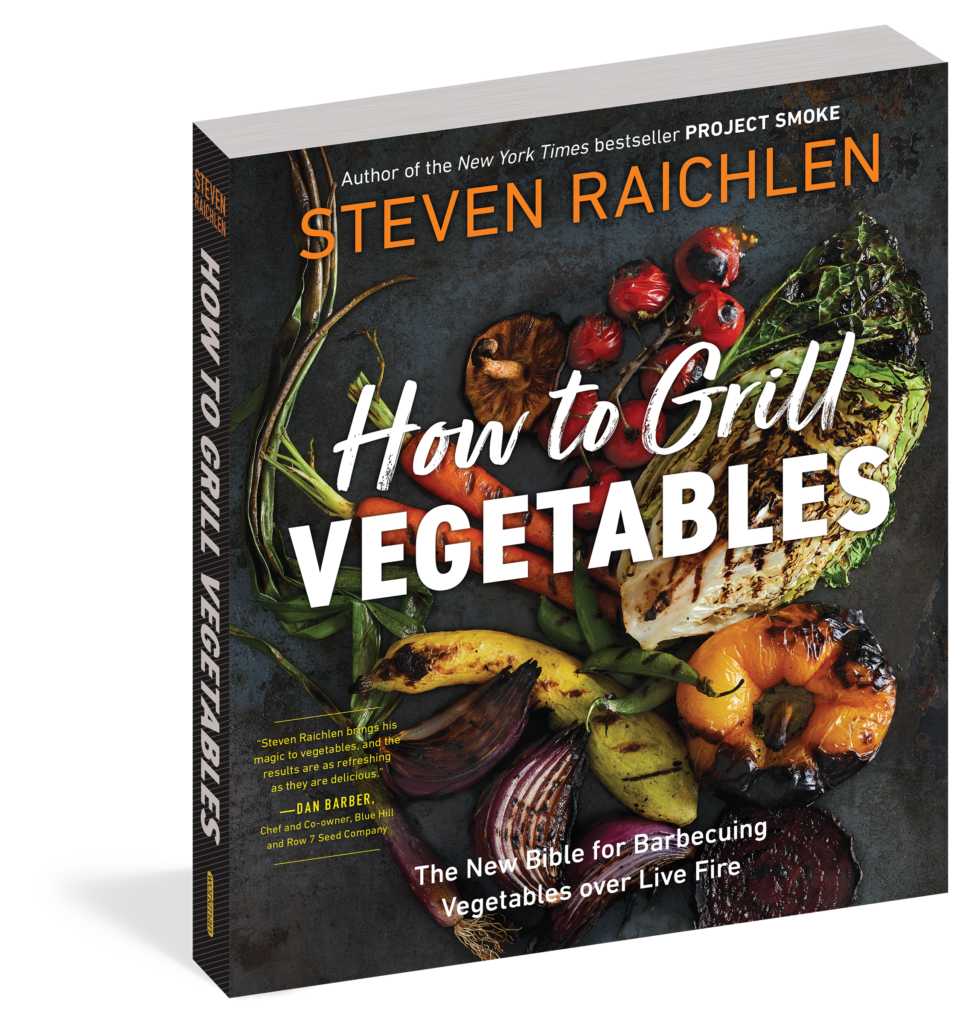 Steve Raichlen the author has written many award-winning books about BBQ cooking, as well been a presenter of TV shows in the USA and in France.

He is also the founder and dean of The Barbecue University, which sounds a great place to spend three years before emerging with, presumably, an engraved pair of tongs. Good luck getting your parents to pay for it, though.

Obviously prime candidates for the flame are classics such as courgettes, corn and peppers but almost all veg can be grilled even,as here, brussel sprouts on the stalk.

Here you'll also discover hay-smoked lettuce, 'caveman' grilled squash, flatbread cooked actually on the live coals and cedar-planked hasselback apples for dessert. What about grilled avocados? Yes, it works.

Not vegan but still meat-light, are Vietnamese style grilled eggs, vegetable paella, grilled asparagus bundles with cabrales cheese and jamon serrano, and a barbecue tofu sandwich with sriracha mayonnaise.

Steve has plenty of useful tips and pointers for us as well, although telling his readers that a parsnip ' looks like a white carrot, but there the resemblance ends' is perhaps a little patronising.

Sweetcorn is of course a BBQ favourite. Baltimore Grilled Corn with Brown Butter and Old Bay Seasoning sounds great, and he also offers Grilled Corn Five Ways.

Not a fan of grilling corn in the husk, which is good in its way but prevents the lovely black and yellow effect gained when corn is cooked 'naked', he does still suggest 'caveman corn' where the corn in its husk is put straight into the fiery coals.

There are 115 recipes here, none of them fail to make you feel hungry.

It is an American book, so some of the ingredients may be hard to find in the UK, those weird American cheeses for example, or need translating into English, but it's good to see not all Americans see a BBQ simply as a place to slap on a giant steak or build a heart-stopping burger.

If you've been looking to up your grilling game with lots of tasty and healthy vegetables, or are catering for vegetarians this is the book for you.