This isn't a pizza place, Crazy Pizza is a Pizza Palace but then what else do you expect in one of the most prestigious addresses in London?

Walking into Crazy Pizza in Hans Crescent, next to Harrods, Knightsbridge you might not think you were going to eat pizza at all. From the stylish exterior decked with flowers, to the sleek interior with a cool cocktail bar by the door, the place looks like a home of Fine Dining.

The Morello pizza oven down at the end gives it away of course, as do the black and white pictures of stars of stage, screen and politics that cover the walls. There's Berlusconi grinning with happiness as he holds up a slice. Bunga Bunga!

And the clientele are classy. These are glamorous people, stylish girl gangs, couples shining with health and wealth, the glint of Rolexes and the ricochet of multilingual chatter. I like it, this is how I should always be living my life. I wish.

Crazy Pizza is part of the Billionaire Life portfolio, founded in Porto Cervo, Italy in 1998 by F1 legend Flavio Briatore, now it has entertainment and hospitality destinations across Europe, United Kingdom, Middle East and Africa.

Obviously it's not cheap to eat here, but is it any good?

Well the service is certainly up to the mark; fast, friendly, unobtrusive. We're welcomed effusively, seated in moments, and close to the Tuesday night entertainment of Luca, his guitar and a repertoire of songs that span continents and generations.

I bit too close actually, as we have to bawl at each other to have a conversation.

Anyway before we get to the pizzas, there are starters to consider from a compact list. Quite a few salads for those watching their weight, and fine Burrata for those who don't care.

I fancy some bresaola with rocket, Datterino tomato and Grana Padano. P has the tuna nicoise. My Bresaola is wonderfully presented, I drizzle a bit of olive oil and balsamic over and tuck in.

Excellent cured beef, the right degree of 'toughness' and the slight musty smell that comes from proper aging. Curls of parmesan and gently acidic yellow and red tomatoes make it perfect. A generous portion, too.

P's nicoise is made with tinned tuna, but that's ok. There's tinned tuna and tinned tuna and this is clearly one of the very good brands. Lots of fresh and vibrant greens, lettuce, red onion, cherry tomatoes, green beans, black olives, potatoes make this another substantial starter.
So far so good, but it's time for the stars of the show – pizzas.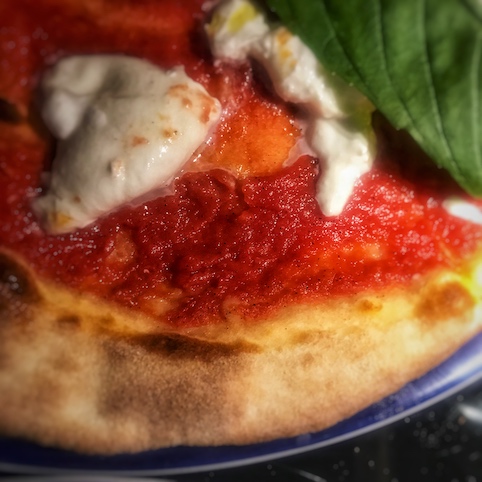 Crazy Pizzas don't use yeast in their pizzas, which does sound a bit crazy, going instead for wafer thin bases with lots of crunch. Mine is topped with tomato sauce, mozzarella and a nicely spicy salami. I don't like my pizza overloaded with toppings, for me it spoils it.


At the next table a lady has her pizza topped with french fries and I try not to stare even though I am shocked. Seriously? Yes, the rich are different for sure.

Mine's a good pizza, as is P's who has gone for the classic simplicity of tomato sauce, clumps of beautifully fresh Burrata and a drift of basil leaves. Less is more.

We've both had better but a) we're not in Italy and b) this is not an artisan pizza place down a Shoreditch backstreet serving tinned over-hopped beer. Here. you're buying a lot more than a pizza, you're buying an experience and a lifestyle.

It seems a place to celebrate birthdays – two happen while we are there, complete with fizzing table fireworks. The staff seem prepped to always have fun at the drop of an olive, all part of the Crazy Pizza service.


And then there's the dessert.. P ordered Tiramisu, expecting the usual, but instead all the components for making it were brought to the table where the waiter assembled it with great aplomb and plenty of Insta-friendly pauses. What's more, it was actually delicious, too. Not the usual wet mess, but a dessert with every layer distinct.

I had simple ice cream, but freshly made and with a luscious choccy sauce.

We headed out, with P needing holding up after eating 'far, far too much Tira' as she said happily.

Crazy Pizza is definitely somewhere to impress a first date. It's stylish and opulent and it has a menu you can be certain won't scare anyone whose food tastes you aren't yet sure of. I mean, who doesn't like pizza?

But hold the fries please.

www.crazypizza.com

32-34 Hans Crescent, Knightsbridge, London,SW1X 0LZ